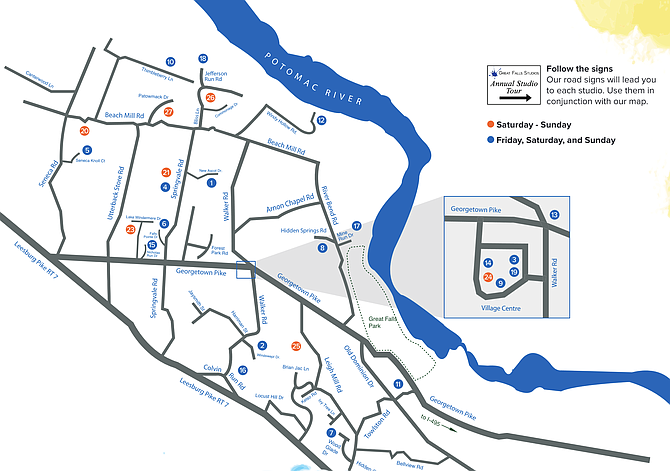 The Great Falls Studio Tour is celebrating its 20th anniversary. This coming weekend, 42 artists will take part in the free and open-to-the-public tour happening from 10 a.m. to 5 p.m. on Friday, Oct. 20, through Sunday, Oct. 22.
Artists will give live demonstrations and exhibit their work in multi-artist studios at Great Falls Village Center and in private home studios throughout the Great Falls community. 
"The tour provides insight into each artist's life, art practice, and studio location," said Meralee Fredenburgh, executive director of The Arts of Great Falls. 
"Many of the tour artists offer activities where visitors can try their hand at painting, jewelry making, or wheel throwing," she said.
The Great Falls Studio Tour is a must-see for art lovers of all ages. Painting, jewelry-making, pottery, mixed media, fiber, printmaking, photography, clothing, wood, and others are examples of artwork media.
Tourgoers may leave with a new piece of art to hang on the wall to wear, or they may be inspired to take a class and start their own artistic journey. Whether the plan is to visit a few studios or "make it a day, there are nearby lunch locations. Among them is the Great Falls Studio Tour's silver sponsor, Our Mom Eugenia, located in Great Falls.
The gold sponsors for the 20th annual Great Falls Studio Tour are Lori Shafran of Yeonas & Shafran Real Estate and TD Bank. OVivid Chill and Great Dogs of Great Falls are the other silver sponsors.
Tourgoers navigate from studio to studio using an interactive GPS site and can pick up a printed tour brochure with a map at any tour stop. Meet the artists and Download the 2023 Studio Tour Brochure at www.greatfallsstudios.com/studio-tour-2023-home.