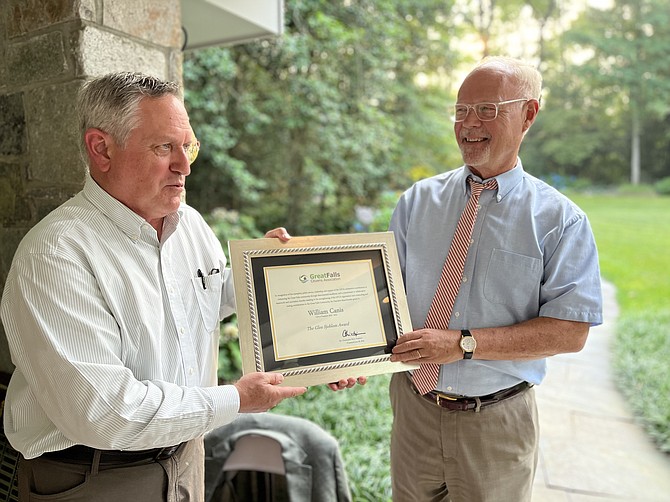 The Great Falls Citizens Association Executive Board presented the coveted Glen Sjoblom Award to William "Bill" Canis, president of the GFCA (July 1-2022–June 30, 2032), on Wednesday, June 28. Canis listened as various speakers shared their appreciation in a gathering full of family, friends, colleagues and dignitaries.
The GFCA Board hosted the program to honor Canis at the home of Ellen and Allie Ash. Elected government officials included Dranesville District Supervisor John Foust (D), Sen. Barbara Favola (D-31), Del. Kathleen Murphy (D-34), Del. Rip Sullivan (D-48), and Sen. Jennifer Boysko (D-33). The event and award honored Canis's unwavering dedication to preserving the beloved elements of the Great Falls community and ensuring that residents have a voice in issues affecting Great Falls.
According to Chris Rich, the current vice president and president-elect of the organization, Canis has made a lasting impact on the organization and the broader community through his sustained leadership, innovative solutions, team-building abilities, and recognition of others' contributions.
Canis displayed exceptional leadership qualities crucial to overseeing an all-volunteer association and establishing effective relationships with government officials and various community organizations during his three terms as vice president and president for an unprecedented seven years.
According to Pam Grosvenor, the position requires an individual who can foster teamwork and collaboration while effectively engaging and motivating others. Furthermore, this individual must be open to hearing and considering diverse points of view, actively promote civil discourse on various issues and adeptly mediate conflicts when they arise. "Bill has all of these qualities."
Jane Edmondson, chief of staff for Supervisor Foust, looked over the crowd of other dignitaries and said, "In one way or another, we've all worked with Bill Canis."
Murphy laughed and told how the best part of working with Canis was sitting at the neighborhood restaurant and bar, The Old Brogue, to discuss matters.
Foust presented a resolution issued by the Fairfax County Board of Supervisors. He praised Canis for guiding the GFCA through several challenging issues involving land use, roads and trails, trees, parks and playing fields and for doing an "outstanding job."
Foust added that "Canis has played a significant role in efforts to preserve historical assets, such as Turner Farm, the Grange, and Forestville Schoolhouse." "His initiative to conduct an inventory of big trees in the community earned an award from the Fairfax County Tree Commission."
Canis will continue serving GFCA as its past president as part of the Executive Board, where he will continue to shape the organization by participating in meetings, community discussions, and initiatives. Canis said he is looking forward to spending more time with friends and family, especially his granddaughter Nora, who only knows Canis as grandpa but will one day understand what he has done to help Great Falls.
The GFCA board of directors voted in 2019 to rename its annual President's Award the Glen Sjoblom Award and commissioned a plaque that now hangs in the Great Falls Library with the names of past recipients and room for many more in the future. This original award was created in 2018 to recognize outstanding and sustained service to GFCA and the Great Falls community, working through GFCA and its committees. Additionally, recipients must demonstrate collaborative teamwork, innovation and leadership. The Connection reported in its 2019 story, "Glen Sjoblom Honored for Serving Great Falls Community, that when Sjoblom received the award, Canis said, "America celebrates what it values, and, in making this award, GFCA is celebrating volunteering and commitment to the community."