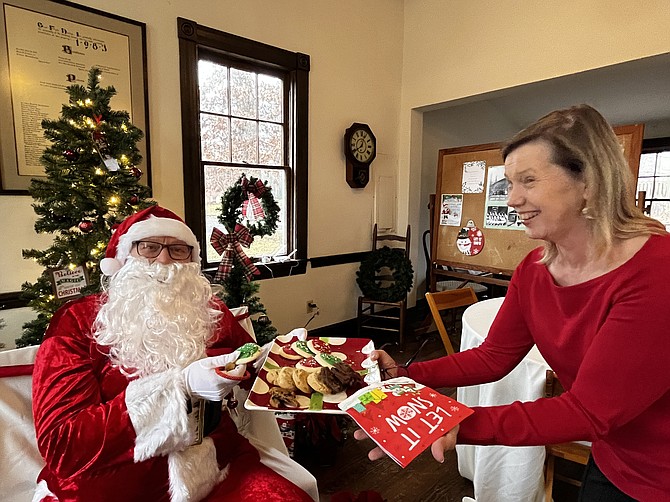 The Great Falls Grange Foundation presented its inaugural "Cookies with Santa" at the historic Forestville Schoolhouse on Nov. 27. The free event did not need registration or tickets.
"The Great Falls Grange Foundation is thrilled to be offering this as one of the many exciting events here and around the community for the holidays," said Julie Maher, director of the Great Falls Grange Foundation. 
Santa welcomed children, young and old, to share what they wished for the holidays. Parker Killoran, 10, of Great Falls, very politely described his ask to Santa, a computer, preferably a Mac, mentioning the need for a bit of speed. 
Later, Parker described the present he wanted to give his father to assist him at Saint Francis Episcopal Church. Dad Patrick is the Communications and Technology director there.
Talking with the man in red can be a bit unnerving to some children, but not for Max McKnight, 6, of Great Falls, surrounded by his family, Grandpa Dan; mom Amanda; and dad Trevor.
Anne Bentz, who apparently knew Santa very well, went right up to him and, when asked what she would like for Christmas, responded with no hesitation. "World peace."