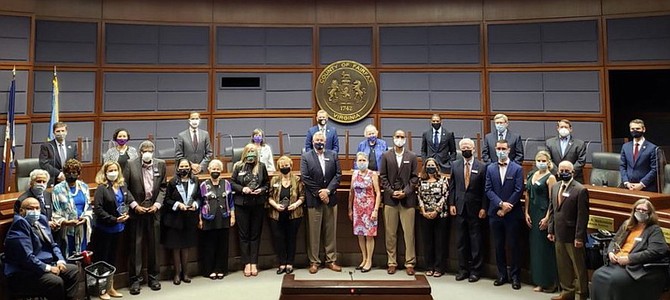 Twenty honorees who were named Lord and Lady Fairfax of their magisterial districts and at-large for 2021 were celebrated at last week's Board of Supervisors meeting. Each of the nine elected members of the Fairfax County Board Supervisors selected two outstanding individuals from their districts to receive the prestigious award as did the Chairman. The honorees demonstrated exceptional volunteer service, heroism or other special accomplishments to receive the award.
The tradition of the Lord and Lady Fairfax Awards program began in 1984 to recognize the outstanding volunteer leaders of Fairfax County and is usually held in conjunction with the Celebrate Fairfax Festival. However, Celebrate Fairfax, Inc. canceled the 2021 festival due to the coronavirus pandemic.
Lords and Ladies
At-Large: Chairman Jeffrey C. McKay
Pamela Montesinos
Andres Jimenez

Braddock: Supervisor James R. Walkinshaw
Leeann Alberts
Robert Cosgriff

Dranesville: Supervisor John W. Foust
Janie Strauss
William Canis


Hunter Mill: Supervisor Walter L. Alcorn
Brenda Irons-LeCesne
Alvarez LeCesne Jr.

Lee: Supervisor Rodney L. Lusk
Renee Grebe
Keith Foxx

Mason: Supervisor Penelope A. Gross
Dr. Nancy Joyner
Mr. William Lecos

Mount Vernon: Supervisor Daniel G. Storck
Ms. Lisa Sales
Dr. Keary Kincannon

Providence: Supervisor Dalia A. Palchik
Mercedes Dash
Ken McMillon

Springfield: Supervisor Pat Herrity
Christy Hudson
Evan Draim

Sully: Supervisor Kathy L. Smith
Debbie Kilpatrick
Carlos Carrero
Chairman Jeff McKay
Pamela Montesinos and her teammates at Western Fairfax Christian Ministries have been a beacon of hope for so many in Fairfax County as the COVID-19 pandemic has created a crisis unlike any that most of us have seen before. WFCM has been a trusted partner, and provider, for our Fairfax County community since the start of the pandemic. This support has not wavered, and Pamela continues to lead the Client Operations and Programs at WFCM at "full steam ahead" to ensure that our residents at risk for hunger and homelessness are cared for with grace and dignity.
Andres Jimenez is a model of citizen involvement in local government. Through multiple avenues, he has found a way to speak up for causes important to him and in support of the most vulnerable members of our community. As an environmental advocate, he has been a crucial voice to serve as the Chairman's appointee to the Planning Commission. In this role, he has dedicated countless hours and long evenings to thoroughly vetting land use policies to ensure each one meets the needs of our community. He has committed to bringing an equity lens into every decision he makes in this role. Notably, Andres stepped up to serve on the Chairman's Task Force for Equity and Opportunity this past year, to further advocate for a future in Fairfax County where all community members are able to thrive
Braddock Supervisor James R. Walkinshaw
Leeann C. Alberts is a retired attorney with more than 40 years of professional experience primarily in Federal Government and commercial contract law. Born and raised in Massachusetts, she is a 1981 graduate of Suffolk University School of Law in Boston and also holds a Masters of Business Administration from Western New England College. Her undergraduate degree is from Boston College. Ms. Alberts is the Braddock District Representative for the Fairfax County Health Care Advisory Board (HCAB), and the immediate past Chair of the Fairfax Area Disability Services Board (FADSB). She currently also consults on the All Abilities Activities Center project (AAAC). She has previously served on the Northern Virginia Training Center Task Force, the Long Term Care Coordinating Council (LTCCC), and the Community Consolidated Funding Pool (CCFP) evaluation team for Fairfax County. Her volunteer work outside of the Fairfax County Government umbrella includes holding the position of Vice President of the Board of Directors for the ENDependence Center of Northern Virginia (ECNV), as well as Membership VIce President for the Kings Park Civic Association Board (KPCA). A person who has had significant disabilities since childhood, she is a longtime disability rights advocate, having served as a member of the Board and President of the Center for Living and Working in Worcester, MA in the mid-1980s. She was also a member of the State of Massachusetts Commission for the Developmentally Disabled. Leeann and her husband Brian live in Springfield, VA. In her spare time, she has sung with the Metropolitan Chorus and the Vienna Choral Society performing at the Kennedy Center, as well as at the Lincoln Center, Alice Tully Hall in New York City, the Boston Symphony Orchestra, at Tanglewood and with the Boston Lyric Opera Company.
Bob Cosgriff is the incumbent Braddock District representative and Vice-Chair on the Trails, Sidewalks and Bikeways Committee. He was initially appointed by then-Supervisor John Cook in 2017 and reappointed by Supervisor James Walkinshaw in 2020.
Current Community Service: Fairfax County Medical Reserve Corps (since 2012); completed Incident Response System certification, Safety Officer certification, and several other training requirements, and participated in a number of full-scale field training exercises as well as real-world mobilizations, including for COVID-19 support 
Mr. Cosgriff is a graduate of Villanova University (BA, Honors Program—Humanities, magna cum laude) and earned an MA in Education from Pepperdine University. He served on active duty in the U.S. Navy for 24 years, retiring as a commander, and subsequently worked in higher educational administration and defense contracting.
Dranesville Supervisor John W. Foust 
Janie Strauss was a member of the Fairfax County School Board for 26 years, two years as an At-Large member and 24 years representing the Dranesville District. She served multiple terms as chair, vice-chair, and budget chair. During her tenure, two new elementary schools (Colvin Run and Coates) were opened and 15 schools in the Dranesville District were renovated. In addition, full day kindergarten, advanced programs available to all students in all schools, arts as a core curriculum, and later start times for high school students became the norm. She was awarded the Advocate in Education Award in 2018 by the Virginia School Board's Association. She retired from the School Board at the end of 2019. Janie began her education career as an elementary and preschool teacher. She holds a Master of Arts in Teaching from the Harvard Graduate School of Education. She served many years as the board chair of The Country Day School in McLean. She has been a PTA president and President of the Fairfax County Council of PTAs. As the McLean Citizens' Association Education Chair, she was part of the group that founded the McLean Teen Center. She has been a long time Board member and supporter of the McLean Project for the Arts. She currently is the Program Director of The Cappies of the National Capital Area and Vice President of the Cappies Corporation. Cappies celebrates and promotes excellence in high School theatre throughout the US and Canada. Janie has lived in McLean for 46 years.
Bill Canis Serving as president of the 53-year-old Great Falls Citizens Association since 2016, and previously as its vice president, environment and parks committee chair, and communications director, Bill Canis is a team builder, working diligently with the GFCA executive board and other residents to retain semirural aspects of their community. Because Great Falls is not a legally organized town with a mayor and council, federal, state, and local officials often look to GFCA to provide local perspectives, comments, and recommendations on a range of public issues. During his tenure, the GFCA executive board has increased the voice of residents in county land use and school decisions, expanded the tree canopy, identified ways for better storm water regulation, improved deer management to preserve woodlands, sought safer local roads while protecting their historic two-lane characteristics, added mobility options for pedestrians with new trails, and worked to preserve historic assets such as Turner Farm, the Grange, and Forestville Schoolhouse. He has also served for a decade as a scout leader, assisting Great Falls youth in cub scout Pack 55 and boy scout Troop 55 in developing leadership skills, teamwork, and environmental awareness. A 22-year resident of Great Falls with his wife Susan and three children, he has participated in other local civic organizations such as Great Falls Trailblazers. He led community efforts to relocate signage about Georgetown Pike during the Civil War from Route 7 onto that historic roadway, the first such signs in Great Falls. While living in New Jersey, he was an active member of his town's Economic Development Commission, and as a resident of Washington, DC, he served as a board member of the organization now called the DC Preservation League to preserve historic characteristics of the capital city. He is a graduate of Johns Hopkins University with a B.A. and M.A. in international relations.
Hunter Mill Supervisor Walter L. Alcorn
Born and raised in Los Angeles, California, Brenda Irons-LeCesne earned a Bachelor of Science in Psychology from California State University at Los Angeles, and a law degree from Loyola Law School Los Angeles. In 1977, she and her husband, Alvarez LeCesne, Jr., moved to Reston. Her legal career included attorney for the Federal Communications Commission and Federal Trade Commission, and Deputy Director for The Center For Dispute Settlement. In addition to her career and raising 2 children (Craig and Ryane) with Alvarez, she has been active in the Reston community for many years leading organizations that provide resources and services to the African American community in Fairfax County. As former president of the Lambda Kappa Omega Chapter of the Alpha Kappa Alpha Sorority Inc. (AKA), she initiated an annual health fair, an annual women's workshop, and a high school honors program. As former president of the Reston Chapter of Jack and Jill America, Inc., she coordinated the first Cotillion and Beautillion, a program that honors young African American women and men. Under her leadership, the Reston Chapter of The Links, Inc., received the Best of Reston Award and the Martin Luther King Jr. Cultural Foundation Outstanding Educator Award. She also served on the board of the Educational and Charitable Foundation (ECF), a public nonprofit organization and the philanthropic arm of Lambda Kappa Omega Chapter of AKA. ECF's mission is to provide educational and charitable services to individuals and organizations. She is a recipient of the NAACP Fairfax County Chapter Community Service Award and has served on the Reston Community Center Board of Governors. She continues to remain active with the Reston Links, AKA, African American Women's Book Club, Heritage Fellowship Church, Reston-Dulles Section of the National Council of Negro Women, Reston Rubies and The Uplanders.
Born in New Orleans, Louisiana, and raised in Los Angeles, California, Alvarez LeCesne Jr. earned a Bachelor of Science in Business and Accounting from California State University at Los Angeles and a law degree from Loyola Law School Los Angeles. In 1977, he and his wife, Brenda Irons-LeCesne, moved to Reston. In 1995, he retired from a legal career with the federal government, where he worked for the Internal Revenue Service and the Department of Justice. He then embarked upon a career with several nonprofit organizations serving as Director of Government Affairs and Community Outreach for the Reston Association, Director of Community Partnerships for Reston Community Center, and Executive Director for the Emerging Scholars Program. In addition to his careers and raising his 2 children (Craig and Ryane) with Brenda, he has been a very active volunteer. Currently, he is a member of the Fairfax County Comprehensive Plan for Reston Study Committee. He serves on boards of the Emerging Scholars Program, the Herndon Rotary Club, and Reston USE. He is co-chair of the Fairfax County Police Department Chief's Council on Diversity Recruiting. He is a member of Heritage Fellowship Church, the Fairfax County Chapter of the NAACP, Sigma Delta Tau legal fraternity, and Alpha Phi Alpha fraternity. His numerous achievements include the Best of Reston Award, the Martin Luther King, Jr. Cultural Foundation Outstanding Educator Award, the NAACP Community Service Award, the Reston Community Coalition Outstanding Service Award, and the Emerging Scholars Service Award for serving as Founding Executive Director and Trustee Emeritus
Lee Supervisor Rodney L. Lusk
As a 20-year resident of Lee District, Renee Grebe works to connect residents with the value of their local ecology. She is an active resident of Loft Ridge HOA, having helped to install a rain garden, a native plant meadow, and is currently the co-chair of the Conservation Committee. Since 2012, she has been a Fairfax County Invasive Management Area (IMA) Volunteer Coordinator at Clermont and Loftridge Parks, working with volunteers throughout the year to remove invasive plants. In 2014, she became a Certified Virginia Master Naturalist and has since contributed over 600 volunteer hours to the program. Since 2016, she has served on Fairfax County's Environmental Quality Advisory Council (EQAC) in an advisory capacity to the Board of Supervisors on diverse environmental policies. Since 2019, she has been the Northern Virginia Conservation Advocate for the Audubon Naturalist Society, leading efforts in Northern Virginia to protect watersheds and respond to the climate emergency. Most recently she served as a Lee District representative on the County's Community-wide Energy and Climate Action Plan (CECAP) taskforce. She looks forward to leading Fairfax County towards a more sustainable, equitable future.
Keith Foxx has been mentoring youth in the County's FairfaxFamilies4Kids program, continuously, now for nearly 20 years. He nurtures and guides mentees, making sure they are on the right path, helping them to be the best version of themselves. This successful Howard University-trained civil engineer continues to advise and mentor a 31-year old that he first met when the man was 14 years old. Keith has served for four years on the PTSA at Lewis High School, and similarly volunteers with the Key Middle School PTA. He will tell you that his deep commitment to youth stems largely from his own early experiences growing up in difficult, often dangerous surroundings in Boston. His parents were both employed; his Dad was also a Vietnam veteran. Keith was a very good student, especially in mathematics, He played varsity basketball and varsity football. Yet violence was always near for him and other young Black youth. His mom worried about possible gang involvement and packed Keith off to a private school in Cambridge. When Keith returned home after his first year at Howard, he and a cousin returned their dates to their homes, finding an ex-boyfriend raging and firing a bullet that hit Keith in his abdomen.The following summer Keith learned that his cousin had been murdered. The pain, hurt and sense of guilt endure. Foxx is driven and compelled to intervene and redirect this pattern of lost opportunity, failure, likely violence, and possible death. He is fully dedicated to the mentoring work of modeling responsible behavior and interventionist engagement.
Mason Supervisor Penelope A. Gross
For Dr. Nancy Joyner, volunteering is a way of life that brings joy to herself and others. An active community member for 35 years, Nancy is best known for creating the Team Joyner Foundation after the untimely death of her son, Clayton (Coach CJ) Joyner in 2014. Commemorating her son and his love of swimming, the foundation awards scholarships to needy Falls Church High School seniors to attend Northern Virginia Community College. Proceeds from the Coach CJ Celebration, an annual event at the Annandale Firehouse, fund the memorial scholarships. Nancy is also a marriage celebrant, and has performed more than 425 marriages. She does not accept fees, but donations from the ceremonies help fund Team Joyner scholarships. In 2015, Nancy converted Coach CJ's Victory Lane Aquatic Club into a year-round non-profit organization which trains youth in competitive swimming. Nancy is a certified referee and stroke and turn judge for the Northern Virginia Swim League, and is a founder of NOVA United Senior Women's Basketball Association, competing in regional tournaments and the National Senior Olympic Games. Currently the Magister (president) of the Court of Camelot, Nancy retired in 2017 as the Dean of the Lutheran College Washington Semester and Executive Director of the Lutheran College Washington Consortium. She lives in Camelot with her two puppy mill rescue dogs, Bandit and Cuddles. Her daughter, Kristin, is a Fairfax County kindergarten teacher, and her late husband, Dr. Christopher Joyner, was a professor of International Law and Politics at Georgetown University. Nancy Joyner turned grief into positive energy, benefiting her community, and richly deserves to be Mason District's Lady Fairfax.
Bill Lecos moved to Mason District as a child in 1962, growing up in a family committed to community and public service. After establishing his career in nonprofit management, Bill and his wife, Judy, moved their three young daughters back to the family homestead in 1998. During the past 23 years, in addition to becoming a recent grandfather, Bill has served his neighborhood and Mason District in a variety of roles. Bill has served as a director of the Sleepy Hollow Recreation Association and the Lake Barcroft Association. He initiated the Community Night Out event in Lake Barcroft to recognize first responders, including the water safety staff, and the installation of a community playground for the growing number of children in Lake Barcroft. Bill is Mason District's appointee to the board of Visit Fairfax, served on the Bailey's Crossroads/Seven Corners Comprehensive Plan Task Force, and more recently the Site Specific Plan Amendment Task Force in Mason District. Bill's ability to analyze concepts and find common sense solutions brings an extra level of calm community expertise to sometimes lively discussions. 
Mount Vernon Supervisor Daniel G. Storck
Lisa Sales has worked in both public and private sectors and served as a consultant for numerous nonprofit organizations. Over the course of her career, she has worked for the Executive Office of the President, two New York State Governors, a California Congressman, and multiple state and local officials. However, she pours her heart into her volunteer efforts and is a trailblazer in women's equity, domestic and sexual violence prevention and victim support, and racial equality. Lisa was a very vocal member of the Commission on Women, especially for issues in disenfranchised or marginalized communities. Due to Lisa's advocacy, the Commission's bylaws are the first in the county to include an equity statement. She was a driving force behind the Virginia General Assembly ratifying the Equal Rights Amendment (ERA) last year and continues to work to get Congress to fully ratify the amendment. Lisa was also one of the "Three Musketeers" who was determined to bring a domestic violence shelter opened in the South County area in 2019. Understandably, Lisa's initiatives, strong drive for equity, and mindfulness makes her a formidable and well respected advocate in the community.
Reverend Dr. Keary Kincannon is a leader and innovator in the Mount Vernon community. Keary earned his doctoral degree from Wesley Theological Seminary and began his career as a community organizer. Knowing he did not want to serve a traditional church, in 1996, he founded Rising Hope Mission Church to support the community of the least, the lost, the lonely, and the left out, along Route One. Under his leadership, Rising Hope provides 125,000 direct services to 6,000 individuals, operates a food pantry serving 1,000 families, a kitchen serving 16,000 hot meals and a hypothermia shelter serving 125. Keary is also a founding pastor of V.O.I.C.E. (Virginians Organized for Interfaith Community Engagement) a broad-based, multi-racial, multi-faith, multi-issue, non-partisan citizens' organization dedicated to social justice issues of low/ middle-income residents. After 26 years of ministering, Keary is officially retiring, but he has left an indelible mark on the lives of so many residents and he will remain an active leader in our community.
Providence Supervisor Dalia Palchik
Mercedes Dash was born in Havana, Cuba in 1952. During the tumultuous years of the Castro government, Mercedes and her sister were taken out of school as rumors circulated that children would be taken away from their families and sent to re-education camps. Between 1960 and 1962 14,000 children left Cuba and their families for the United States including Mercedes and her sister, who were 9 and 11 years old. Upon arrival in Miami in January 1962, they were placed in a foster home where we would remain for almost two years. Their parents joined them in Miami in January 1965. The family moved to Arlington, Va. in October 1965. After graduating from high school in Mercedes began working as a travel agent. She met her husband in 1973 and married the following year. They have lived in Fairfax County since 1974. Mercedes has five sons, eight granddaughters, two grandsons and soon her first great-granddaughter. In 2020, Mercedes graduated from George Mason University with a degree in Multicultural Early Childhood Education Administration. Mercedes has been operating a multicultural early childhood program since 1990. For several years, she has been the Providence district appointee to the CCAC Board. She is involved with the organization Cake4Kids where Mercedes bakes birthday cakes for children in foster homes and shelters here in the County. This year Mercedes was selected for the prestigious Child Care Aware of Virginia Heart of Service Lifetime Achievement Award. Mercedes loves serving our community and our state and hopes to continue for many years to come.
Ken McMillon joined the Fairfax County's Community Action Advisory Board (CAAB) in March 2013. He has spent years as a strong advocate for affordable housing. Among the many roles and advisory boards he has served on in his fight to bring more affordable housing to Fairfax, Ken presented the Virginia Peters Memorial Fair Housing Award in 2018. He was appointed to the Preservation of Affordable Housing Task Force in August 2020.
Springfield Supervisor Pat Herrity
Christy Hudson was working as a fitness instructor when the pandemic struck and quickly grew concerned that her children's access to education was at risk. Together with other Fairfax County parents, she was a co-founding member of the Fairfax County Parents Association, who organized to demand accountability and transparency from their School Board and the county school system. Previously an introverted and private person who had dedicated time to volunteering with her children through their schools, sports, and scouting, Christy found herself in the limelight as she became one of the visible faces of FCPA in the pursuit to reopen the schools safely to ensure children did not fall behind. Through her work with the Fairfax County Parents Association, Christy has been a vocal and successful advocate on behalf of parents and children who attend our schools. Having spoken to over a thousand individual parents and listening to their stories, Christy finds motivation in being able to share the stories and hardships of those who struggled with FCPS during virtual instruction. 
Evan Draim is a graduate of Princeton University and George Mason University School of Law who has always been drawn to Public Service. Interested in the intersection of public policy and education, he sought ways to be an advocate for individuals with disabilities He became an Employment Development Specialist where he worked to advocate on behalf of those on the autism spectrum. Leveraging his connections in the community to increase the presence of Service Source, his work included connecting Service Source with local business and political leaders. In his work as legal and public policy fellow, he is continuing to promote the organization. Through his work with veterans in ServiceSource, he learned about the Navy JAG Corps. Evan decided to serve in the Navy JAG Corps following Law School to help gain legal knowledge and be able to advocate for underrepresented communities. In addition to his work with ServiceSource, Evan has served as a volunteer with the Asian Pacific American Legal Resource Center, on the board of directors of the McLean Citizens Association, as a mission committeeman with St. John's Episcopal Church, and as volunteer specialist with the Virginia Defense Force. While he cannot predict where his future career with the Navy JAG Corps will take him, drawing inspiration from his grandparents on each side, Evan is committed to continue his work in public advocacy and giving back to the community.
Sully Supervisor Kathy Smith
Supervisor Smith values the contributions Debbie Kilpatrick has made to the residents of Sully District through her education advocacy and community engagement. Debbie has resided in Sully District for 22 years with her husband and two sons, both graduates of FCPS and state universities. Supervisor Smith first met Debbie serving on the Rocky Run MS PTA board in 2001. Debbie continues to volunteer within Sully District and the county in community organizations, PTA, and BACs. For the past 20 years, Debbie has been a PTA volunteer serving in her sons' local schools, as the Fairfax County Council President, and as Northern Virginia District PTA Director, while also being employed as a FCPS substitute teacher. Family-school-community advocacy and addressing our diverse needs, is a passion of Debbie's, and her dedication to children and families within Sully District and throughout Fairfax County, is commendable. In 2019, Supervisor Smith appointed Debbie as the Sully District Representative to the Barbara Varon Volunteer Award Selection Committee with reappointments in 2020 and 2021. Reviewing current practices, the committee held strategy meetings to better define the award and improve processes, and reassignment to Office of Elections. Debbie's experience with team building and strategic planning contributed to positive changes being implemented. Debbie serves as Sully District appointee with the Community Action Advisory Board (CAAB), 2019-2022 term. Debbie has participated in the directives of the board to prioritize the needs of low-income residents and determine resources needed to support them with recommendations of CSBG funding. Over the past few months, Debbie has participated extensively in strategic planning to revise the vision, mission, and implement meaningful advocacy, education, and funding to support the needs of those in poverty.
This year, on behalf of the residents of the Sully District, Supervisor Smith is pleased to honor the hard work and dedication of Mr. 
Carlos Carrero
. Mr. Carrero has been a resident of Fairfax County since 2001, when he and his wife Marisol, and their two sons Timothy and Matthew moved from New Jersey. Since that time, Carlos has been heavily involved in youth sports, through coaching, organizing, and officiating. During that time, Mr. Carrero has racked up 18 sporting titles and championships. While he is undoubtedly a successful coach, Mr. Carrero views his victories off the court as his benchmark of success. "With sports, you can give any kid an outlet. And if you coach them the right way, you give them a chance." Mr. Carrero is still fondly referred to as "coach" by many of the children he previously coached, who are now grown adults. Even when he's not coaching, Mr. Carrero is instructing the youth off-the-field in the lessons of life. He is commonly sought after for advice by the youth in the Meadows of Chantilly. The COVID-19 pandemic proved quintessential for Mr. Carrero, as he stepped up to work with various County agencies and community groups to secure weekly food shipments and toiletries for his neighbors in the Meadows while many of them were out of work. Through his collaboration, Mr. Carrero provided spaces for trucks to unload produce, the Health Department to pass out hand sanitizer and for church groups to distribute staple commodities. Because of Mr. Carrero and his outreach within the community, the residents of the Meadows of Chantilly did not go hungry when the virus presented very real and very serious challenges. Mr. Carrero continues to advocate for his community by serving on Fairfax County's Manufactured Housing Task Force.