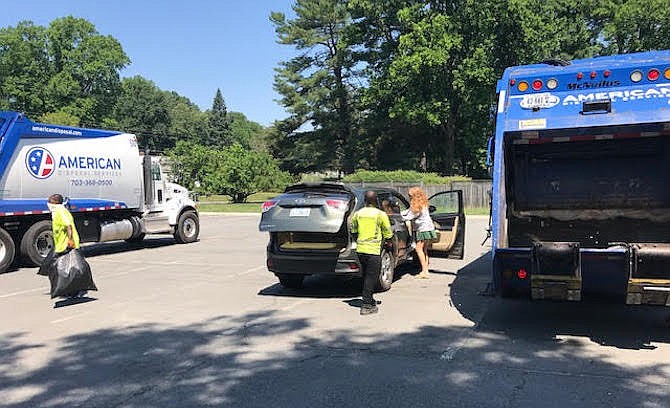 Can you guess the oldest community tradition in Great Falls? Annual Fourth of July parade? Farmer's market at the Village Green? Lighting of the Christmas Tree?
Nope. It's the weekly ritual where residents can bring their garbage and recycling to the parking lot of Great Falls Elementary School on Saturdays between 8 a.m. and noon. Known as the "parkout," this low-cost garbage disposal service has been around since the 1930s, when Great Falls was nothing but farms, a firehouse, and Buck's general store. In 2003, Fairfax County transferred operations to a local nonprofit, run by unpaid community volunteers.
Still here and going strong. And now is a great time to sign up for a one-year permit, which runs from July 1 until June 30, 2022. Visit greatfallsparkout.com for details.
What's in it for you? Plenty.
Good for Your Wallet: Annual service costs only $330—half of what most commercial curbside pickup services charge. You don't need a pickup truck. Plenty of folks pack the backs of their SUVs and sedans (Make as many trips as you need). I raised three kids hauling them along with the trash to the parkout every Saturday morning, followed by a visit to the 7-11 for a treat. Even the dog knew the routine, and always insisted on coming along in for the ride.

Good for Your Community: Much of Great Falls and McLean remains a bucolic tangle of narrow, twisting byways and privately maintained roads—nightmares for big trash trucks to navigate. This has sparked tensions in many neighborhoods and discouraged some private carriers, driving up prices and complaints about spotty service. Hauling yourself cuts down on road wear and tear and unsightly curbside garbage heaps. The parkout trucks are onsite every Saturday, rain or shine. The only time they're not available is when county schools are closed Friday the day before because of bad weather.

Good for the Environment: Yes, the parkout recycles. There are two American Disposal Services trucks —one for trash and one for metal, cardboard, paper and plastic—with a friendly crew of collectors who will do the heavy lifting for you and will try to accommodate most everything, except paint and hazardous materials. Fairfax County has stopped recycling glass, but there are still glass drop-off centers at the Great Falls library and in Baron Cameron Park in Reston.
Membership in the parkout peaked at around 800 residences in the 1980s. Today it stands at 260, more than enough to keep the service going. Why the decline? One reason appears to be a lack of awareness by newcomers. When Carolyne Albert-Garvey, a former school principal, moved to Great Falls two years ago, she was so frustrated by poor commercial service that she kept bringing her trash to her second Arlington home every week for pickup. "I didn't know the parkout existed," she said. Now she's the new president of Dranesville Trash & Recycling Inc., hoping to keep this community tradition going for many more years to come.
Harbrecht, a retired journalist and 39-year resident of Great Falls, has volunteered as a non-paid board member of the parkout for 2021-22.