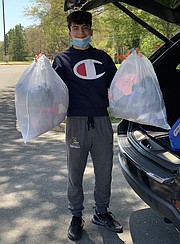 It only took two days of quarantine for Isabel and Nathaniel Mathew of Great Falls to become restless.
After Virginia Gov. Ralph Northam (D) announced on March 23 that all schools would remain online for the rest of the school semester, the Langley High School siblings didn't know how they were going to spend their newfound free time.
That is, until they figured out a way that they could give back to those in the community who have been hit hard by the coronavirus crisis.
Isabel Mathew, 15, and Nathaniel Mathew, 17, started "Facilitating Connections" in quarantine, an organization that matches Northern Virginia donors with local beneficiaries.
Facilitating Connections accepts donations such as food, clothes and sanitary items and delivers them to beneficiaries in need of supplies.
"Our main goal is to make sure that no food goes to waste," Nathaniel Mathew said. "So while customers have declined for businesses, restaurants have way more food than they used to."
A bulk of the organization's work consists of collecting food from Northern Virginia restaurants and donating it to shelter homes and food pantries, according to Nathaniel.

The siblings have enjoyed watching the donations grow over the past few months.
"We were having trouble for the first few weeks finding donors," Nathaniel said. "It was once we started to get a few donors who were willing to donate weekly, that I started to feel like we were making a difference in the community."
NEARLY TWO MONTHS after the inception, the organization has received approximately 40 donations. Facilitating Connections averages about 5-6 donation drop-offs per week.
For Isabel, it's also rewarding to be able to work with friends to give back to those in need. Between the two, the siblings have rallied 12 of their Langley High School friends to help them with their cause.
"We're really close to the people we're working with and it has brought us together in a different way," Isabel said. "I've learned things about my friends that I haven't before."
The organization has worked with local restaurants such as Great Falls Creamery, Manhattan Pizza and Deli Italiano. The organization has even worked with local branches of national chains such as Domino's and Chick-fil-A.
Casey Jones, the director of operations at Deli Italiano, has enjoyed working with Facilitating Connections during such a difficult time.
"We were really touched to see, especially people so young in the community, getting involved with something like this," Jones said. "Deli Italiano has its own initiative called 'Feeding Heroes,' so to be able to do even more than that, and to extend ourselves and to work hand in hand with another organization was really wonderful."
Facilitating Connections has delivered food and supplies to organizations such as Women Giving Back, the SevaTruck Foundation, LINK Against Hunger and Cornerstones.
Although Facilitating Connections has given the teenagers a sense of purpose during such an uncertain time, their efforts won't stop once the worst of the COVID-19 crisis subsides.
MEMBERS of the organization will continue to make a difference in their communities, post-pandemic.
"Our short term goal was to help people immediately affected by the COVID-19 pandemic, but we intend to go beyond the region of Great Falls and beyond just this crisis that we're facing right now and help anybody who is in dire need," Nathaniel said.
Those who are interested in getting involved can find Facilitating Connections on platforms such as Instagram and Facebook or visit the organization's website at https://facilitatingconnections.org/.