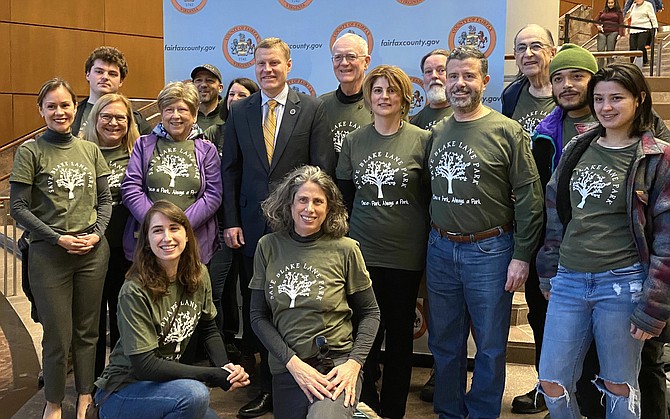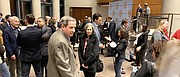 New Fairfax County Board of Supervisors (BOS) Chairman Jeff McKay hosted a new year's reception for citizens at the Government Center, on Jan. 30, continuing a tradition observed by former Chairman, Sharon Bulova.

Receiving citizens for comments and photographs, the Chairman also collected donations for charity. Those attending were encouraged to bring items for the municipal animal shelter and for the county's neighborhood community service effort to fight hunger.
Some, like the "Save Blake Lane Park" grassroots group, came to remind the Chairman of their cause. Supported by the Northern Virginia Conservation Trust, and Friends of Accotink Creek, the group seeks to preserve what they describe as their "island of green space" in Oakton against construction of a needed new school. Says Jennifer Pradas, a teacher and resident of the area, "Every tree counts; other school alternatives need to be reviewed." Adds Dennis Allerton, "It's not too much to ask to have both," referring to needs for adequate schools and green space.
Chairman McKay seems to agree. While visiting the park during his campaign, he said, "Green spaces are limited… Where we have an opportunity like this to protect an environmental treasure in a community, we need to be able to do that."
Others, like Mary Jackson, of Reston, came "Just to see what's going on." Mary works to be sure young people understand the importance of voting and get registered.
Police Chief Ed Roessler was available to speak with citizens. He described his office's three primary functions: 1) prevent and fight crime, 2) preserve the sanctity of life, and 3) keep pace with urbanization in policing, a nod to the growth and challenges of policing in high rise buildings and with the growing urbanization of the county.
The County's "Stuff the Bus" program, highlighted for donation by Chairman McKay, is a food collection partnership to fight hunger in our neighborhoods. Weekly through February, the bus makes stops at local grocery stores to collect food and household items. A schedule of stops is available at the County's Neighborhood Community Services calendar, at https://www.fairfaxcounty.gov/neighborhood-community.../calendars.
The Fairfax County Animal Shelter is an open municipal shelter with an outstanding animal placement rate and vibrant volunteer program. More information and the Shelter's wish list for donations can be found at https://www.fairfaxcounty.gov/animalshelter.