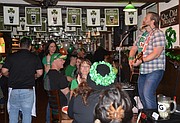 If you couldn't spend your St. Paddy's Day in the Old Country itself, the next best place to do so was obviously at The Old Brogue Irish Pub in Great Falls.
The 38th edition of the St. Patrick's Day celebration at Mike Kearney's establishment saw a packed house of revellers. They filled the reserved-seating "Snuggery" for two lunch shows and two dinner shows with traditional Irish fare and Celtic concerts by Tam McGeady and the Mostly Irish Band. They squeezed into the main Pub and restaurant where Ted Garber entertained them with rousing Irish tunes, and they spilled out into the back enclosed porch, the back patio and the front patio, as well.
After paying their modest $10 cover charge, the 21-and-up crowd enjoyed plenty of Guinness and other beverages and Irish and American food favorites on a day that was made-to-order with plenty of sunshine, blue skies, and temperatures that were just right.
In the Snuggery, the diners enjoyed a guaranteed seat with their set-price menus, while in the Pub the partiers secured a spot where they could and waved their drinks high in the air while singing along to old time Irish favorites like "Whiskey in a Jar."
It seemed as if most of the residents of Great Falls were present, but with the true spirit of an Irish hospitality, some of the celebrants came from far and wide and were warmly welcomed into the partying fold. Sometimes far was really far, like "Country Mouse" Melissa" who travelled from New Zealand to enjoy the festivities with her "City Mouse" sister Belinda, who has been a resident of the region for more than twenty years. "It's great fun!" said Melissa, showing off the neon-green wig that she brought with her for the occasion.
"It belongs to our mother," Melissa explained. "She's always up for a bit of fun and a costume!" Seems that both Melissa and Belinda inherited mom's love of a good time.
The event was an adults-only affair, but four-legged and furry well-behaved attendees were allowed, so Loki, a Working Line German Shepherd pup from Fairfax accompanied his best friend Bryan White to the celebration.
Mike and company strongly suggested a designated driver for each group of St. Paddy's partyers, but were willing and able to assist in procuring alternative methods of transportation back home if a patron had taken just a bit too much Guinness or Bushmills Whiskey on board before it was time to head off.
It's another Old Brogue St. Patrick's Day Bash in the books and folks are already talking about next year.
The luck of the Irish to you all. Slainte!