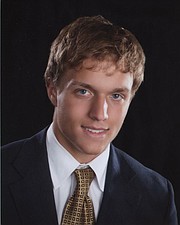 Great Falls — Mark Christopher Wilson lost his life on Aug. 9, 2018. Mark was 24 years old and grew up in Great Falls. He was a 2012 graduate of Langley High School in McLean and earned his undergraduate degree in Petroleum Engineering from the University of Oklahoma in 2016. The day after his death, Mark was to graduate from Texas A&M University with a Masters in Chemical Engineering.

Mark is survived by his mother, Teresa A. Rutledge of Reston; his brother Matthew G. Wilson of Dallas, Texas; along with his father Grant Wilson, his sisters Laura Wilson and Katie Herries (husband Brad Herries, children Hannah and Hunter), all of Austin, Texas. Mark is also survived by his grandmothers Ruth Rutledge of Cape Girardeau, Mo., and Lucy Northcutt of Norman, Okla., and his grandfather Bob Wilson of Kingston, Okla. Read more about Mark at Mark C. Wilson Memorial Fund.
A Celebration of Life service and reception will be held Saturday, Sept. 8, at McLean Bible Church at 1 p.m. A memorial service will be held in Norman, Okla., on Oct. 13. Mark was honored by Texas A&M University in College Station, Texas, at the Silver Taps ceremony on Sept. 4.
In lieu of flowers, donations may be made to the Mark C. Wilson Memorial Fund online or by mail to The Community Foundation for Northern Virginia, 2940 Hunter Mill Road, Suite 201, Oakton, VA 22124.