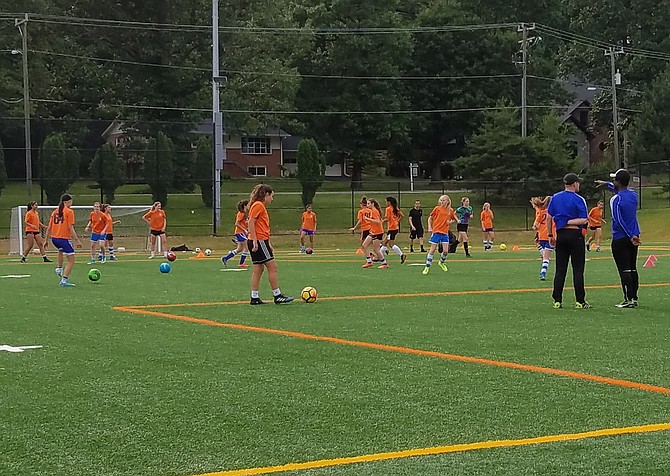 The Reston Soccer Association and Great Falls Soccer Club merged in March of this year, combining to form one club of around 2,600 players. The merger has been a subject of discussion for years now, but only recently came to fruition after careful coordination between members of the Reston and Great Falls Boards of Directors.
Radovan Pletka worked as a coach for both the Reston and Great Falls clubs since 2008 before becoming the Technical Director at GFSC in 2015. On a Tuesday night practice, parents dropping their kids off for practice, praised "Coach Rado's" work ethic and dedication. The girls on his team would call out to him before showing off a trick or taking a shot, and when they were successful he would go over and give them a high five before pretending to shine their cleats. He was happy to discuss the merger, his time in the world of soccer, and where he sees youth soccer in Northern Virginia heading in the coming years.In interview, both in person and in exchange of e-mails, Pletka shared his life story.
"If there was a song written about my background, it will go something like this: An African kid, born in the Czech Republic, adopted by a tall, blonde, blue eyed Czech guy who married my mother, shipped off immediately to Ghana, and found myself in a boarding school from age 9, where most of my friends were refugees from other war torn African countries. At 15, I met my real mom, step father who is the only father I have known and my half-brother and sister when I moved to Burke, Virginia. Three years later, I left for college, a person torn between his birth mother and mother that raised him, who was semi-adopted by a Jewish family and one of his best friends is Libyan. Francis Marion College gave me a full scholarship for soccer. I had a good two years there but I was often injured so I transferred to play and finish my final two years at George Mason University. Upon graduating, I moved to Greece to play professionally but I never had luck with injuries. After two years I moved back to Northern Virginia where I settled and became involved in Youth Soccer in 2005. I first started as a trainer before becoming a coach and ultimately the Technical Director of Great Falls-Reston Soccer. I needed a warrior's mentality because I have essentially been on my own since age 9. If the option is fight or flight, I don't think twice about it, I fight because it's the only way I know how to survive."
COMPARING THE SOCCER when he played it and now, Pletka said: "There is more talent now than when I played, but more people made it to a higher level then than now. I see several players who are more technical and with more ability at age 14 than I had at age 16."
Discussing the merger of the Great Falls and Reston soccer clubs, his role in that and the community reaction, Pletka said: "I used to coach in both Reston and Great Falls. When I was coaching in Reston, I used to talk to Rich Shelton, who is now the Executive Director and my direct boss in the newly merged GFR, about a merger a lot. We used to say that it makes sense for both these clubs to merge in order to be stronger, offer better and more programs, and be able to compete against the bigger clubs. So when I left Reston to become the Technical Director at Great Falls, Rich and I continued the discussions. We also had very good people on both boards who supported and worked selflessly to make it happen.
"I am excited about the direction of GFR because we really have a good vision and mission in place. I really believe that in the years to follow, we will be one of the few clubs of choice in the area and hopefully the best. I have good bosses, and a great coaching staff helping set the club in the direction we want to go. I am also glad to mention that there are several people in other clubs with the right mindset and intentions to improve youth soccer so I am optimistic.
"My new goal after the merger is to ensure that starting 2020, we will be able to produce 20 college players each year."
FOR MORE INFORMATION on the merger, Great Falls Reston Soccer created a fact sheet that is available online at www.greatfallssoccer.com