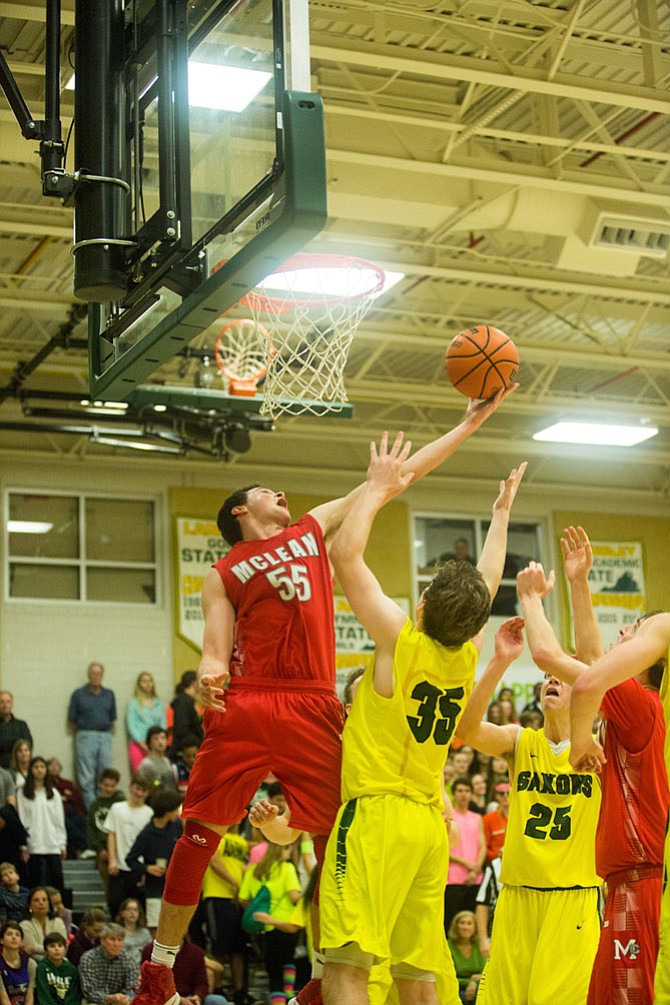 In a crowded gym at Langley High School Friday night, the Saxons Boys Varsity Basketball team defeated the McLean Highlanders for the tenth straight time, 60-53.
Both teams were squarely matched until the fourth period when the Langley Saxons powered through to win with just five fouls. The McLean Highlanders struggled to reclaim the ball in a full court press down to the final seconds of the game.
The rivalry between McLean and Langley has always been a friendly one. But between both sections of cheering students the gym was sweaty and the rivalry was stronger than ever.
"The gym will be sold out. We will play in front of a packed house. It's always a nail biter, and that's the way a high school game should be," said Mike O'Brien, McLean's Head Coach.
"Mike O'Brien and I are good buddies. I love the rivalry game when both teams are good. Tonight is going to be one of the best Langley-McLean games in a while. There's a buzz around the rivalry," said Langley Head Coach Scott Newman.
Langley's five-man squad is led by two seniors, Chase Beckett and Colter Carton. Beckett, small forward for the Saxons, had 21 points and seven rebounds.
"There were ups and downs and we started out slow, but we proved we could play hard and we did," said Beckett.
McLean's 5-7 record this season had them optimistic going into the game, Especially with a close win against Herndon on Tuesday, 81-62.
"We've started playing pretty well. We didn't win a game last year and we needed to get the kids used to winning games," said O'Brien. "The kids have a lot of belief right now, to understand that they can win games and take that momentum into tonight."
But Langley proved the better team even without Tre Vasiliadis, Langley's sophomore starting point guard who spent Friday's game on the bench from a previous concussion. He missed the last six games, but according to Newman, he will be playing again soon.
Mike Redding, a senior at McLean High School, was keeping score at Friday night's game. "Both teams played hard and it came down to the best one. It came down to the end and they put out a good effort," said Redding.