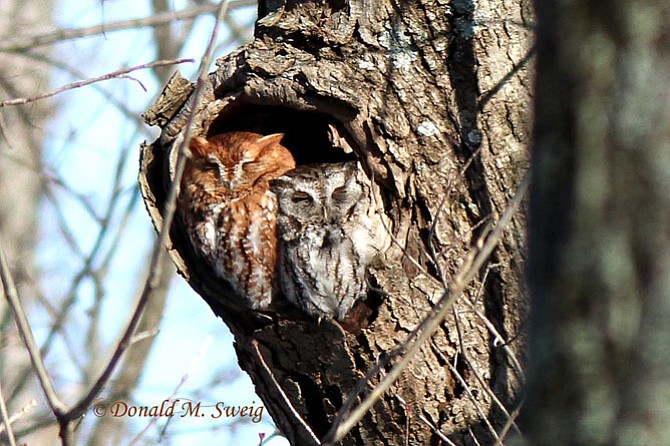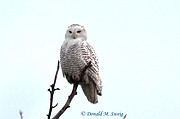 It was a frigid 4 or 5 degrees in Great Falls National Park on the morning of Sunday, Jan. 7. Even so, a hearty and determined group of birders carried on with their usual Sunday morning bird walk. Part way into the walk, the leader, Kris Lansing, noticed something unusual about a knot hole in a large tree 40 or 50 feet away. She and another birder, looking carefully with their binoculars, realized it was an owl.
When spotted by the birders, the little (about 8.5 inches high), rufous-morph, Eastern Screech-owl (Megascops asio) was perched in the sun on the edge of the hollowed-out knothole that was its roosting retreat. Doubtless the owl was hoping that even the weak January sun would provide some warmth against the frigid morning cold. For the birders, it was a pleasant and delightful surprise, eagerly viewed with binoculars and spotting scopes, and recorded with cameras. Screech-owls are not unknown or unseen on the bird walk or in Great Falls Park, but they are a rare occurrence. At another point on that morning's walk, the birders found and observed a larger (about 21 inches tall), gray-brown, Barred Owl (Strix varia), a more frequent sighting in the park than the Screech-owl.
TO MOST BIRDERS, many ornithologists, not to mention the general public, owls are often a matter of great interest and often fascination.
Four years ago, in January 2014, the appearance of at least two migrant Snowy Owls (Bubo scandiacus), about 23 inches high, at National Airport, and two more in downtown Washington, generated great interest and discussion. Snowy owls migrate during the winter months as far south as the Washington area irregularly. But, Screech-Owls, Barred Owls, and the even larger Great Horned Owls, live and breed in local woodlands. They are permanent residents, even in the frigid winter.
Finding local owls can be, and usually is, both challenging and unpredictable. But when one is spotted it often becomes a subject of intense interest. For that reason, most birders and other responsible observers, refrain from posting on the internet or otherwise revealing the location of a roosting owl, for the owl's protection. The Screech-owl found on the Sunday bird walk was reported on E-bird and the Virginia birding listserv, with a notation that the location would remain undisclosed. Even so, birders and ordinary folks do find and see local owls, particularly in the winter when there are no leaves on the trees.
GREAT FALLS NATIONAL PARK, and environs, as well as along the C&O Canal in Maryland, are excellent places to look and listen for, and occasionally find owls. Similarly, they are sometimes located in wooded areas such as south of Alexandria, as well as in local parks and even residential yards. Local owls are often as ubiquitous as they seem elusive. They frequently roost or nest in hollows in large trees, often completely out of sight. It helps to have an experienced owl-finding companion or two when looking for the secretive birds.
The Sunday morning Great Falls bird walk is as good an opportunity as any to chance upon a local owl. The walk meets at 8 a.m. every Sunday in the first large parking lot at Great Falls National Park, Va. Everyone is always welcome on the walk, although there is no guarantee of seeing an owl.
Donald Sweig, a local birder and nature photographer, is an occasional contributor to the Connection