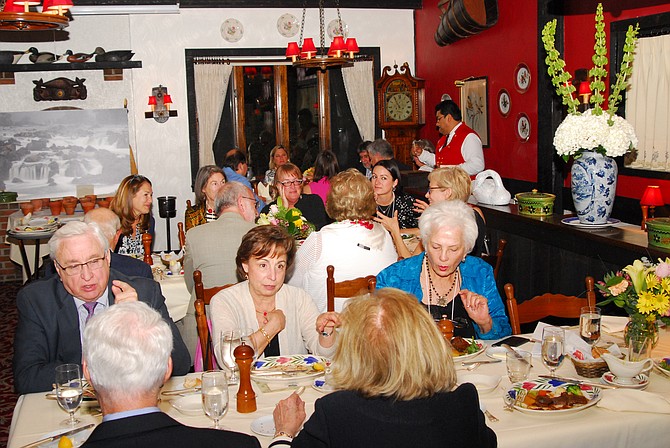 The 40th Anniversary of GFHS was a delightful gathering of members old and new who shared memories and hopes for the future as they enjoyed an exquisite cuisine, served impeccably in a classically decorated dining room at L'Auberge Chez Francois.
The Past Presidents who attended the celebration spanned the decades and included Genevieve Chadwick, wife of Bill Chadwick (1984-1986), Susan Cochran (1996-1998), Jacque Olin (2000-2002) and (2008-2011), and Calvin Follin (2003-2005). We received a thoughtful donation from Chris Osbourne (1994-1996) in honor of his mentor, Burt Brittin (1982-1984).
Members of the 2016-2017 Board present included Greg Haymans, Vice President; Betty Swartz, Corresponding Secretary; Doug Cobb, Treasurer; Sondra Taylor, 2013-2016 Director; and Jan Schar, 2016-2018 Director.
Tibbetts Award Honorees present included Lucie Garrett, wife of Bill Garrett (2010), and Betty Swartz (2016).
It was touching to see Calvin and Jennifer Follin exchange memories with Peter and Jennifer Falcone, both of whom had young children when they were initially involved with GFHS. At their table was Paul Jimenez and Elizabeth Wiley, parents of four young children, whose interest in history has just awoken. Our Society's future depends on engaging young families in a love of local history. These lovely social occasions invigorate connections across the decades and inspire renewed participation.
We are grateful to Doug Cobb, who chaired the Anniversary Celebration Committee and made all the arrangements.
Alex Brudno did a remarkable job reaching out to local businesses to invite them to become supporters of our anniversary event. Twenty-five local businesses responded and showered our Society with thoughtful gift certificates and/or products and services they offer and/or even cash donations. As each gift was raffled off, the donor was mentioned and their products and services were highlighted.
We celebrate the story of our village and its continuing spirit of cooperation and caring. We are touched by the generosity of our local business community and sincerely appreciate their spontaneous giving to our society on the occasion of our 40th anniversary.