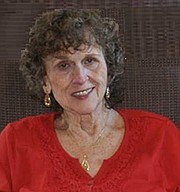 Madolin Maffett Donaldson, age 80, was reunited with Kenny, her late husband of 59 years on Saturday Dec. 2, 2017. She was the daughter of her late parents Emory and Frances Maffett, and a devoted wife and mother.
She is survived by a sister, Dawn Schmandrak and her husband Mark, four children Sandy Weller, Jim, Tom and Fred Donaldson and their spouses Gary, Gail and Linda. She also leaves seven grandchildren, Christy, Gary Jr., Heather, Lexy, Jessica, Sydney and Kellen, and three great grandchildren Caiden, Drake and Alayna.
Madolin devoted her life to her husband and children. She enjoyed cooking, gardening, flowers, bird watching and puzzles. Madolin spent her school years in McLean, and summers on her grandparents' farm in Loudoun County. She raised her family in Great Falls where she lived for 54 years before moving back to Leesburg where she will be joining her late husband and several generations of family at Leesburg Union Cemetery. A memorial service will be held at Great Falls United Methodist Church on Jan. 3, 2018 at 11 a.m.