November 11 through Nov. 15 is Wellness Week at Annandale High School. The Josh Anderson Foundation ("JAF") is contributing thousands of "Laugh More" pins to help everyone get into the wellness spirit, as well as providing after-school yoga lessons for stress relief. In addition, JAF is sponsoring a nationally recognized speaker, Jordan Burnham from the Active Minds young adult mental health organization. All of these activities are in support of JAF's goal to "fund programs in high schools that could've impacted Josh and prevented him from making the irrevocable decision to end his life."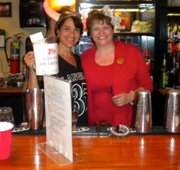 Josh is Joshua Lee Anderson, former Langley High School student and athlete, and brother of Lauren Anderson, JAF Founder and Director. Josh took his own life on March 18, 2009. He was 17 years old. Since the 2011- 2012 school year, JAF has funded suicide prevention programs at Langley High School and Cooper Middle School, and at South Lakes, McLean and Thomas Jefferson high schools, among others. JAF believes that, "teenagers need to understand that their mental health and emotional well-being is just as important as academic, athletic, or extra-curricular success." JAF reminds teens through its website that, "as a 17-year-old, you are more likely to suffer from a life-threatening mental illness than a physical disease, [and] mental illnesses are real, common and treatable."
In order to raise the funds needed to sponsor teen suicide prevention programs and mental health education, The Tavern at Great Falls is hosting the JAF Second Annual Fall Fundraiser on Thursday, Nov. 14, from 6 p.m. to 11 p.m. The Tavern is donating 10 percent of its proceeds to JAF. "The Tavern at Great Falls and its manager, Kevin Shea, are very supportive of the cause and always helpful in preparation for the event and accommodating [on] the evening of, not to mention donating 10 percent of proceeds," JAF Director Anderson said.
Keller Williams Realty McLean/Great Falls is a Platinum Sponsor of the event again this year. Many people from their offices are volunteers who also attend and guest bartend. All bar tips and raffle ticket proceeds will go directly to JAF. Raffle prizes include: game tickets for Georgetown University Hoyas Basketball; grandstand tickets to the Washington Kastles professional tennis team match; and passes for yoga classes at Beloved Yoga of Great Falls and Reston, and the Dream Yoga Studio of McLean. There also will be a live auction of golf for a foursome at Trump National Golf Club; tickets to the Washington Redskins vs. New York Giants football game at FedEx Field on Sunday, Dec. 1; and other items.
The Tavern at Great Falls is located at 9835 Georgetown Pike in Great Falls, Va.
To learn more about the Josh Anderson Foundation visit: www.joshafoundation.org or https://www.facebook.com/joshafoundation