Election Returns
race for lieutenant governor
76,463 votes
54 percent
64,408 votes
46 percent
race for attorney general
71,037 votes
52 percent
66,547 votes
48 percent
Audio clip
Reporter Michael Lee Pope talks about the election on the John Fredericks Show
Two first-time candidates had a hard time beating back the establishment this week, as two state senators won the Democratic nomination for lieutenant governor and attorney general Tuesday night. State Sen. Ralph Northam (D-6) of Norfolk will be the Democratic nominee for lieutenant governor to go against Republican candidate E.W. Jackson. And state Sen. Mark Herring (D-33) of Loudoun County will be the Democratic candidate for attorney general against Republican state Sen. Mark Obenshain (R-26).
"The fact that they were already elected state officials in a low-turnout election gave them name recognition and gave them a base that served their interests," said U.S. Rep. Gerry Connolly (R-11). "If you had doubled the turnout, those assets would not have been as prominent."
The turnout was very low, with only 140,000 voters participating. That gave an edge to the sitting state senators, both of whom had the backing of Senate Minority Leader Dick Saslaw. Across Virginia, party insiders dominated the precincts. That made it difficult for the two first-time candidates to break through. Aneesh Chopra of Arlington, a former chief technology officer for President Barack Obama, was running for lieutenant governor. And Justin Fairfax of Fairfax County, a former federal prosecutor, was running for attorney general.
"We are going to have this monochromatic slate again and I'm really disgusted," said Honorah Price, Democratic precinct captain of Park Lane in Arlington. "I don't really think it's so much a victory for the establishment as it is a victory for people who don't really understand what it takes to win in Virginia."
THE DEMOCRATIC PRIMARY offered a stark contrast to the Republican nominating contest, which was originally supposed to be decided in a statewide primary. Last year, Tea Party supporters of Republican Attorney General Ken Cuccinelli seized control of the executive committee and changed the rules. Instead of selecting the state of candidates in an election, party leaders decided to use a convention. That led moderate Republican Lt. Gov. Bill Bolling to drop out of the race, leaving Cuccinelli unappeased. On the Democratic side, nobody stepped forward to run against former Democratic National Committee Chairman Terry McAuliffe.
"There's no question that the 2013 Democrat ticket will be among the most liberal in Virginia history," said Dave Rexrode, campaign manager for Cuccinelli in a written statement Tuesday night. "If elected, all three candidates will seek to advance ideologically driven, Washington, DC policies that will only exacerbate the uncertainty felt by so many job creators across the commonwealth."
Watching the results filter in at Cafe Asia in Rosslyn, many Democrats who fought for Chopra and Fairfax were deeply disappointed. Even though they vowed to work for the slate of Democratic candidates in the fall, they also felt a sense of loss that the ticket could not have been more liberal. Campaign staffers and volunteers said a ticket with Chopra and Fairfax would have added a sense of diversity because Chopra has Indian roots and Fairfax is an African American. But the Chopra campaign was not able to win Fairfax County, indicating a fatal weakness in Northern Virginia.
"I'm optimistic that candidate like Aneesh and Justin can continue to be successful in the future with the lessons learned," said Dave Stroup, who served as digital director for the Chopra campaign. "These weren't complete blowouts, so it shows that people are open to new ideas."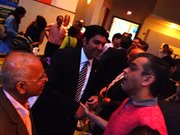 THE RACE for lieutenant governor is usually a sleeper — an afterthought to the gubernatorial race and a stepping stone for candidates trying to make their way to the top of the ticket. Not this year. Because the state Senate is tied between 20 Democrats and 20 Republicans, the winner of the race for lieutenant governor may end up holding the balance of power. Democrats feel energized because they are running against a Republican who has compared Planned Parenthood to the Ku Klux Klan and called gays sexually "twisted."
"Tea Party candidate E.W. Jackson has proven that his extreme views and rhetoric would divide Virginians and prevent bipartisan progress," said Del. Charniele Herring (D-46), chairwoman of the Democratic Party of Virginia. "Our Democratic nominee, Ralph Northam, will work tirelessly to bring mainstream values and a bipartisan approach to the office of the lieutenant governor."
The campaign for lieutenant governor threatens to overshadow the race for governor because Jackson has been such a lightning rod. In a fiery speech to the Republican convention, Jackson declared that he would stand up for traditional marriage and strongly oppose abortion. Since he has secured the spot on the ticket, however, Jackson's public statements have become more muted. After Tuesday night's election, Jackson attacked Northam and the Democrats for wanting to campaign on "divisive social issues." Jackson also sought to blast the Democrats for allowing public participation in the process of selecting candidates.
"After a historically low turnout at an expense of millions to Virginia's taxpayers, Democrats have selected Ralph Northam as their nominee for Lieutenant Governor," Jackson said in a written statement Wednesday morning. "Northam's selection is just another part of the most liberal ticket in Virginia history."
THE CAMPAIGN for attorney general is expected to be a more difficult fight for Democrats, who have not been able to filed a successful campaign for that office since 1985. That's when Del. Mary Sue Terry (D-13) of Patrick County was able to score a victory against Republican candidate W.R. O'Brien, a former University of Richmond football star who represented Virginia Beach in the House of Delegates. For the last six election cycles, Republicans have dominated the campaign for attorney general. That includes the current governor, who is a former attorney general as well as the current attorney general, who is running for governor.
"The GOP candidate for Attorney General, Mark Obenshain, may not give fiery, rhetorical speeches like you hear from Rev. Jackson, but he's just as dangerous," said Herring in a written statement after securing a victory Tuesday night. "That's not the Virginia we want. We are sick of the abuse of authority and this fall we will end it."
Democrats have already indicated that they are want to focus their campaign for attorney general on the same social issues that have dominated the race for lieutenant governor. Last week, Democrats organized a conference call to draw attention to a bill Obenshain introduced in the General Assembly that would have required women who have a miscarriage without a doctor present to report it to police within 24 hours or face jail time.
"Frankly, the extremism — real extremism — of Republican ticket is such that a lot of swing voters and moderate Republicans are going to peel off," said Connolly.