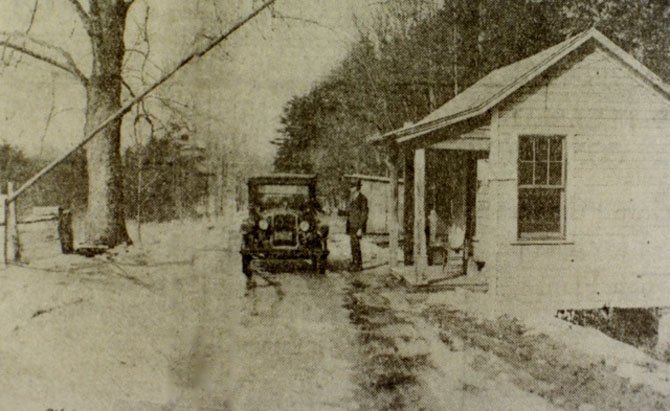 Whether you have lived in Great Falls for generations, just arrived in our community, or live in a nearby town, we welcome you to a homey, experiential history experience this Sunday, May 5. We have gathered together the holders of our village's "story" and these wisdom-keepers await your visit in their "History Tents" to tell the story of life along Georgetown Pike over the last 200 years. They have photos, maps, historic documents and artifacts, and their own personal recollections of how things were. This is a once-in-a-lifetime opportunity to see history come alive.
Trail Challenge
We invite you to take "The Historic Lucy Hanes Trail Challenge" this Sunday, May 5. Park in the Great Falls Elementary School lot and walk the 0.33-mile trail from the elementary school to the library parking lot to The Great Falls Grange Park—about a 10-minute walk. Experience how amazing it is to walk through beautiful Great Falls with shoe to the ground! The Trail Blazers have worked over the last several weeks to clear and mark the trail so that you can easily find your way.
The McLean Historical Society is dedicating two tents to the history of families and properties along Georgetown Pike as it passes through McLean.
Carolyn Miller, descendent of the Cornwells and the Johnsons, will share the stories of her grandfather and great-grandfather—a fascinating family who made many important contributions to our community. Daniel Cornwell owned one of the first three automobiles in Great Falls—a black 1910 Stanley Steamer—and held Grange meetings in his sawmill while The Grange was being built. She has so much more to share.
Mark Turner, of Turner Farm, will be in a tent with his wife, sharing family photos and memories of his father Mark Turner, the dairy farmer, Fairfax County Board of Supervisors chairman, and first chairman of the Great Falls Grange, among other notable responsibilities. Learn the story of the Turner Family—amazing contributors to the Great Falls story—which explains the importance of Turner Farm.
These are just examples of the 20 history tents, four presentations, and many photo, video and art displays among entertainment and local foods available at this history festival. Come experience what it really feels like to be part of a small village.
We will post a brochure and map on our website at www.gfhs.org later in the week. This event takes place at The Great Falls Grange Park at 9818 Georgetown Pike. This event is rain or shine. In the case of inclement weather, the event will be held inside Great Falls Elementary School. Please check our website or like us on Facebook at Great Falls Historical Society, for up-to-the-minute information.