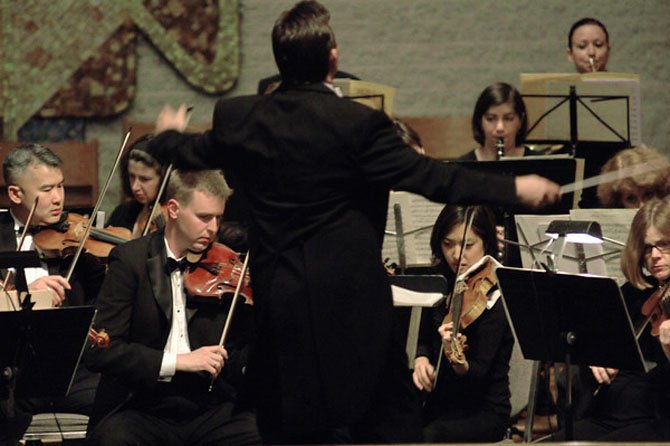 Everyone listens to the radio, occasionally spinning the dial and losing himself in it. Music can excite, comfort, agitate, and calm. Those who play an instrument can pick out different chords and notes, and appreciate the skill of each individual sound. Those who sing recognize pitches and octaves. The rest of us, however, are left to decipher the sounds without any guide. But though every one of us hears music in a different way, we all appreciate beauty when we hear it. Pop, rock, alternative, country—it doesn't matter. Somewhere in the back of our minds, we recognize classical too, though perhaps a little more vaguely.
"Classical has a bad reputation as being almost elitist," says Amadeus Concerts' Artistic Director, A. Scott Wood. "We try to make it accessible—relating our music to other music people know." It's an admirable goal, teaching people that a person need not know what a concerto is to enjoy its sound.
Amadeus Concerts has been achieving this goal for nearly 32 years, expanding its audience and increasing the number of concerts they provide every year. In particular, the orchestra emerging as a centerpiece, offering everything from opera titles to string quartets and jazz events. And all of these are brought into local venues: churches and community centers.
"We bring the orchestra into this great space in your neighborhood so you can have a great concert without going all the way down to the Kennedy Center," says Wood, introducing another meaning to the word "accessible."
"A lot of people would be surprised at how great the acoustics at just local venues really are," says Carol Cummings, president of Amadeus Concerts, citing St. Francis Episcopal Church as an example. But what about the schools?
"We actually take the orchestra into elementary and middle schools as part of our outreach program 'Side By Side,'" says Cummings. "The professionals rehearse the students' pieces with them, and give a performance. The teachers and students love it almost as much as we do."
"Side By Side allows beginning strings players to listen to the professionals and feel the different sounds," adds Wood. "It's another way of breaking that wall down."
This season, beginning in mid-September, will feature eight concerts spread out to St. Luke's Catholic Church, St. Francis Episcopal, and the Reston Community Center. The first concert, on Sept. 16, will showcase the Amadeus Orchestra. Later productions feature an all-star cast of collaborations with organizations from the Washington Symphonic Brass to the Reston Chorale and Calidore String Quartet, among many others.
Amadeus is a program that appreciates music in all its potential. In the words of Carol Cummings: "It's hard to resist a great combination of wonderful music and wonderful people."