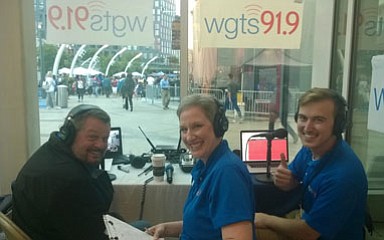 The show must go on rain or shine and "That Married Couple" Johnny and Stacey Stone, left and center, broadcast their afternoon radio segment live on location June 22 from 3-7 p.m. in a makeshift WGTS 91.9 studio at Tysons Corner Center from a glass nook in between the plaza entrance and the Starbucks coffeehouse. McLean resident, right, Tom Miner, is their rush-hour Beltway traffic announcer and self-proclaimed "third wheel."

Stories this photo appears in:

Fans overcome foul weather to hear Mandisa sing at Tysons.
Stormy weather could not dampen the spirits of hundreds of Mandisa fans gathered at Tysons Corner Center Friday evening to watch a music star sing in the rain.