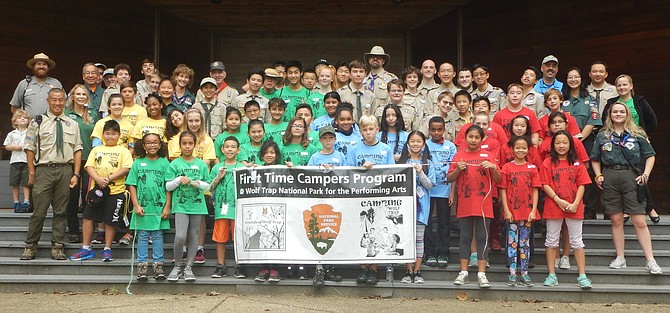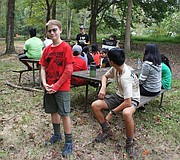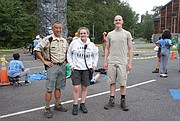 The ninth edition of the First Time Campers Program at Wolf Trap Park is officially in the books. Held between Sunday, Oct. 7 and Monday, Oct. 8 at Wolf Trap Park — with a special permit in the otherwise no-camping, no-fires park — some 40 campers from schools around the region and a small army of adult and youth volunteer leaders, enjoyed pitching tents, setting up camp, cooking their own meals using dutch ovens, and activities like fishing, archery, hiking, bird watching, rock wall climbing and more.
Sponsored by the Friends of Wolf Trap and Wolf Trap National Park for the Performing Arts and organized and supervised by Scout Leader Gary Pan and his experienced Troop 55 Scouts, the program was piloted in 2014 as a way to help local youngsters, some from Title I schools and lower income families, enjoy a fun-filled over-nighter right in their own backyard.
The 30-plus hour outing is not strictly for camping "newbies" only, said Pan, Scoutmaster of Troop 55 of Great Falls. "Kids who came to the first Camp Out are here today and we love that they want to keep coming back."
Pan is thrilled that quite a few return to the bi-annual adventure as volunteers, helping the first timers to make the most of the experience, like Herndon Middle Schooler Tommy Maxson, who started as a camper 3 years ago, and is now a patrol leader.
"I like this," said Maxson. "Our job is to help out the Senior Leaders whenever we are needed, and to set a good example at all times, and help others learn how to do all the tasks properly and just make sure that everyone has a great time, safely."
Pan may be the camp director, but it's youngsters like Maxson, and Senior Youth Patrol Leaders and other young volunteers who are really in charge of the action.
Nick Hodge, of Great Falls and a Langley High School student, who's been attending the event since the first outing, heads the male campers' section. His fellow Langley school mate, MaryEllen Keating, does the honors as the female Senior Youth Leader.
"It's really cool," said Keating. "I especially love seeing the kids who are experiencing this for the first time, watching them as they find out what they can really do."
Just as being a First Timer isn't a requirement for participation, neither is being a Boy or Girl Scout. "Kids come here, they may or may not want to get involved with Scouting afterward, but all are welcome," said Pan. "It's still an opportunity to learn new things, gain confidence, make friends and just be outdoors for a bit."
Campers like Maddie Musetti from Herndon Elementary School, and Peter Popenko from Forestville Elementary agree.
"It's been a great experience," was Maddie's take on the camp out. Peter seemed most interested in the rock climbing wall. Watching his father, who was also on hand, shimmy up to the top of the wall leaves little doubt where the son gets his climbing abilities.
"It's also an opportunity to discover that there is amazing, and accessible natural resources and activities right here, without having to travel far away," added Alan Day, chair of the Friends of Wolf Trap, and one of the original organizers of the Camp Out. With his knowledge of the park and its wonders, Day also leads the campers on hiking adventures on trails built by the Potomac Appalachian Trail Club — another collaborator in the camping event and an organization of which Day is the district manager.
In addition to his Troop 55 and Venture Crew 364 of Great Falls, The Friends of Wolf Trap, the Potomac Appalachian Trail Club, Wolf Trap Park and the Park Service, Pan, and Day say that the assistance and participation of The Great Falls Rotary Club, Orvis of Tysons, Paxton Companies, Ranger Surplus, Panacea Consulting, BOWA, Meadowlark Gardens Master Gardener, the Audubon Society of Northern Virginia and Sara Holtz, of Scouting BSA with her Master Certification in "Leave No Trace" with many other unsung heroes, makes this adventure not only possible, "but a true learning experience all while having fun."
Thinking about joining in on all the fun? The next outing is scheduled for April 5-6, 2019. Check out the website at www.fotw.info or send an inquiry to firsttimecampers@gmail.com.