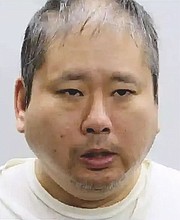 After the local community – and the nation, as well – was shocked last week by a violent attack at U.S. Rep. Gerry Connolly's (D-11th) office in Fairfax City, the man accused of doing it has now been charged with a federal crime in connection with this incident.
According to the charging document filed May 17 in U.S. District Court in Alexandria by Special Agent Nicole Miller, the FBI charged Xuan-Kha Tran Pham, 49, of Chantilly's Greenbriar community, with assault on an employee of the United States, inflicting bodily harm. 
Authorities say he wanted to speak with Connolly, last Monday morning, May 15, and became enraged to learn he wasn't there. Then, say police, Pham allegedly hit the congressman's outreach director, plus an intern on her first day of work, with a baseball bat. 
After being alerted, Fairfax City police quickly responded, subdued and arrested Pham and charged him with aggravated malicious wounding and malicious wounding. He was then taken to the Fairfax County Adult Detention Center and held without bond. His parents – with whom he lives – have said their son has mentally illness but hadn't been taking his medication.
In her document, FBI Agent Miller said Connolly's two staffers were working when "Suddenly, the front door swung open and Pham, wielding a baseball bat, charged through it." She wrote that, after he reportedly struck the outreach director on the head, she fell to the floor – and he allegedly told her, "I'm going to kill you" and "You're going to die," before reportedly striking her some seven more times.
Miller wrote that, when the intern tried to escape toward the back of the office, that's when Pham reportedly hit her in the ribs. At that point, said Miller, a mailman who'd witnessed the attack from across the hall entered the office, distracting Pham, and enabling the outreach director to run away from him. Later, Connolly called that mailman "one of the heroes in this story" for going into the office when he did. Afterward, wrote Miller, Pham used his bat to destroy various objects in the office.
Later that day, authorities executed a search warrant at Pham's home, seizing several items, including a computer. He was arraigned last Tuesday, May 16, in Fairfax County and has a preliminary hearing date of July 17 in General District Court. He's currently scheduled to be represented by a Fairfax County public defender.
Meanwhile, praise continues to come in for the local police and their quick actions that day. "I'm grateful that the City of Fairfax Police Department arrived onsite in a matter of minutes and got the assailant in custody," said Fairfax Mayor Catherine Read. She also has her own thoughts about what transpired.
"An attack of this nature on congressional staffers in a district office is unprecedented," she said. "When something like this happens, we collectively feel less safe – as if the places that haven't seen violence before are suddenly vulnerable in a way we hadn't imagined. The thought of two people being assaulted in an office – including a young intern on her first day – is horrifying."