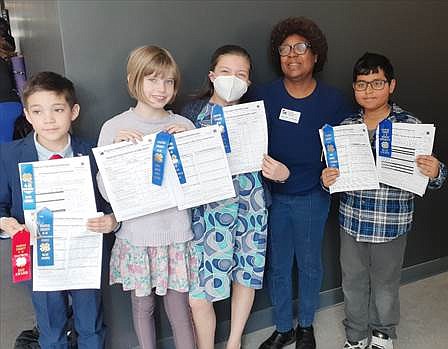 If you grew up in the Midwest like I did, 4-H would be about the best strawberry jam and the handsomest looking hog at the state fair. But Deborah Madden, Associate Extension Agent for Arlington, says, "The program really reflects what area you live in." Locally the kids are surrounded by defense and the government. "We don't have an agriculture program here." She explains that in Fairfax they still do a lot of animal science and horses.
But she says that when they did a survey of 4-H summer camp participants the youth said they wanted to learn about agriculture in Virginia which is the number one industry in the state. So they are going to bring the Virginia State University mobile agriculture van to summer camp this year where the campers will be able to walk in and learn about agriculture in Virginia.
Sharon Toth, 4-H Youth Extension Agent for Alexandria says the 5-day overnight summer camp at Front Royal is the biggest event they do. There will be 200 youth from the northern Virginia area participating in canoeing, yoga, archery, high ropes and this year performing arts. It will be technology free and will concentrate on leadership, teamwork and self motivation. 
Madden says the 4-H core values of learning self-reliance, to be a good citizen and life skills have always been the same over time; it's just that the programs are designed to fit the environment. For instance, in Arlington they have programs in recreation centers and schools that focus on things like urban gardening, culinary education and STEM. She adds they are rebuilding programs on entomology and embryology where they will hatch chickens from eggs.
Barcroft Elementary has an after school club focusing on water and air quality. She says they also have a military club at Henderson Hall that concentrates on STEM. This club has also included creative writing, aviation and cooking. "The youth director decides."
Madden says, "Currently I am still working with Williamsburg Middle School on Teen Cuisine, a six-week program offered during extended day. It looks at nutrition." She recalls the chicken bite salsa. "We're also looking at sugary snacks, good and bad fat. Next they will head into embryology and then a gardening program."
"We plan to have a full 4-H Club at Drew Elementary in two months, then Carlyn Springs library in the fall with drop in activities for teens. 
"I'd like to test the waters on a teen club. We're missing out on the biggest opportunity in this age group."
In Alexandria Toth says they are working in recreation centers and schools to rebuild programs. Currently there are two clubs, one focusing on wellness and adventure at John Marshall Library and the other focusing on nature and animals at Billy Ford Nature Center. "All it takes to set up a 4-H club is an adult mentor to serve as a leader and positive role model and with a topic the youth have an interest in. The programs are youth-driven to instill leadership. And when kids are busy, they are less likely to engage with drugs."
She remembers she was in a traditional 4-H program in New Jersey. It had the same goals, same focus on youth leadership. 4-H is designed to fit its environment. 
Toth says she would really like to start a dog training club — how to take care of your animal, the different breeds. "I think it would really do well in Alexandria. They really love their dogs." 
She adds that Gabriella Coussens Douglas MacArthur Elementary School in (4th grade) Alexandria recently won a blue ribbon for her project on entomology at the 4-H Fairfax County Contest Day. It focuses on the importance of insects and why they are important to the ecosystem. 
In Arlington blue ribbon winners included: Landon Gould (10), Taylor Elementary—1st place Presentations; 1st place, Extemporaneous Speaking; 2nd place, Share-the-fun. Meridian Nilles (9), Oakridge Elementary—1st place, Table Setting; 1st place, Extemporaneous Speaking. Annabelle Cunningham (12), Gunston Middle School, 1st place Table Setting. Samien Chowdhury (11), Barcroft Elementary—1st place, Presentations; 1st place Extemporaneous Speech.
These winners will advance to the Northeast District Contest in Spotsylvania, Va. on April,15, 2023. Toth says 4-H programs are open to kids age 5-19.