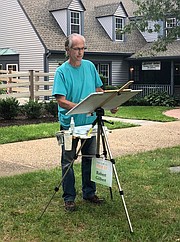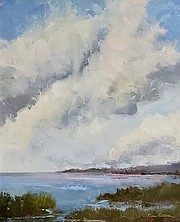 September is the start of the art season in Great Falls when two big events arrive in town. The Arts of Great Falls will hold the 6th Annual Paint Great Falls: Plein Air Competition, Sept. 8 – 13 and the Adult Student Art Show.
This year's Paint Great Falls, sponsored by The Arts of Great Falls and prizes by Celebrate Great Falls Foundation, is the largest to date with 25 artists, to include several, highly recognized, award-winning artists from the DMV area. Painting en plein air, outside without the use of a photo reference, is a challenging event. There are elements such as, heat, changing light, rain and insects that studio artists do not have. That's what makes this event exciting. To accommodate social distancing and encourage artists to get out and paint, the Arts of Great Falls expanded the painting borders to include all of Northern Virginia.

In addition to the daily plein air painting, there will be a Quick Draw event in the Great Falls Village Centre on Friday, Sept.11, 6 - 8 p.m. The Quick Draw is an excellent opportunity for the public to view artists painting in their element. In just two hours, artists will identify a composition and complete a painting that will be judged. Quick Draws are popular activities during plein air events. The Arts of Great Falls is excited to bring this activity to Paint Great Falls.

Judge for this event is Robert Johnson. All artwork will be available for viewing on online gallery, and by appointment. Sales benefit the Arts of Great Falls.

The Adult Student Art Show is now on display on line under exhibits at https://greatfallsart.org/exhibits/ and will be open to the public during the Paint Great Falls – Quick Draw Event on Friday, Sept. 11, from 6-8 p.m. Artists who were enrolled in one of the classes or workshops in 2019 were eligible to enter this annual competition. Over the years, the quality of these pieces has increased dramatically as more and more established artists are taking lessons and continuing to hone their skills with the workshops offered. This year, 16 students entered 30 pieces of art consisting of oil paintings, acrylic collage, pastel and watercolor.

Judge Laura Hopkins recognized the following artists for their excellence:

First Place, "The Gathering" by Karen Bateman
Second Place, "Ballerina Girl" by Doreen Montis
Third Place, "Pride" by Cindi Berry
Honorable Mentions: "The Wine is Fine" by Jay Pigeon; "Iris x Germanica" by Catherine Goss; "Chrysanthemum" by Theresa Miller.
The Arts of Great Falls is a non-profit organization bringing art and art education to the community.