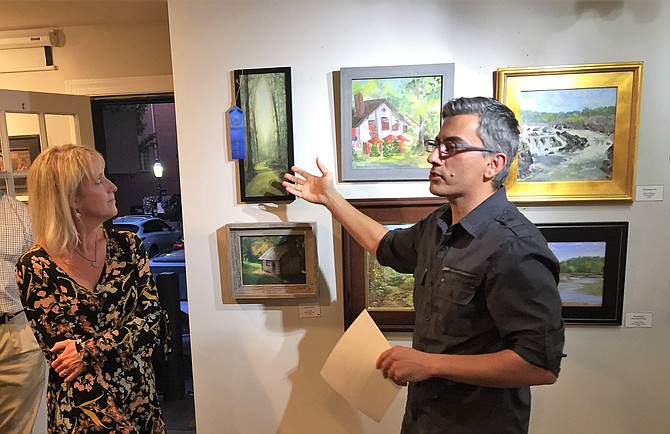 In the 4th Annual Paint Great Falls: Plein Air Competition sponsored by The Arts of Great Falls, Wednesday, Sept. 5 - Sunday, Sept. 9, artists will be painting the beautiful scenery outdoors in Great Falls. Painters will be in popular locations such as Great Falls Park, Riverbend Park and Colvin Run Mill, as well as private gardens, a historic farm, L'Auberge Chez Francois and more. The community can watch the artists create their original art in "plein air" by stopping by their locations daily noted at www.greatfallsart.org/participants/.
The community is invited to two weekend Open House Receptions to see the final paintings of Great Falls scenes. Pieces painted by Friday will be submitted for the Art Walk Friday and all submissions will be hung in the gallery for the Awards & Collectors reception. Art collectors are welcome to attend the Awards & Collectors Reception on Sunday. Paintings of Great Falls' most well-known sights and lesser known hidden gems will be for sale to the public at both receptions.

Art Walk in the Village: First Fridays, Friday, Sept. 7, 6-8 p.m.
Galleries and Studios open in the Village Centre. Start in any studio or gallery 756 or 766 Walker Road, or the Petite Gallery at 9901 Georgetown Pike in Great Falls.
Award & Collectors Reception: Sunday, Sept. 9, 6:30-8:30 p.m.
View all the art submitted of Great Falls Landscapes in The Arts of Great Falls Gallery (756 Walker Road). All guests will vote for their favorite for the People's Choice Award. Sponsored by Rossen Landscape.
Free and open to the public.