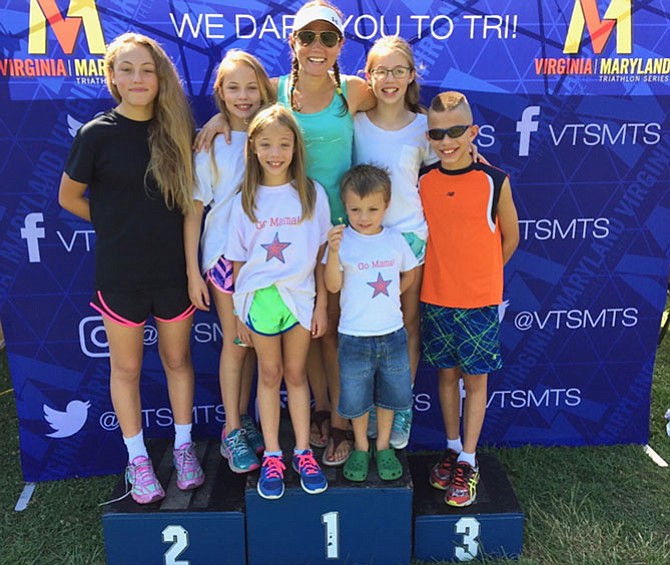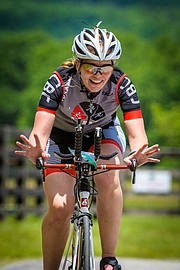 Hear the word "triathlon" and many people automatically conjure up images of Ironman tournaments, and immediately rule out any interest in pursuing that activity. But there's a lot more to the sport, with levels and combinations of competitions that suit all ages and most abilities. You can go the ultra competitive elite route, or choose the path that focuses more on fitness and friendship.
To help spread the word on all-things-triathlon, USA Triathlon, the sport's National Governing Body, has launched an inaugural Ambassadors program, designed to introduce potential triathletes to the sport, as well as offer practical advice and share resources for training, competing, and everything in between.
Our area can boast the residency of two chosen emissaries, among only 44 appointed around the country.
The selection process was lengthy and comprehensive, but the starting point required that the candidates had to have represented Team USA in international age-group competition. The organization was also seeking athletes with inspiring, but relatable stories to tell. USA Triathlon believes that having a grassroots connection to athletes who are your friends and neighbors makes this often-misunderstood sport more accessible.
LOCAL AMBASSADORS can offer a great introduction to a sport that promotes better physical and mental health and builds community and friendships as an added benefit.
Ann Bailey of Great Falls and Rachel McCarthy of Vienna fit the criteria and made the cut, although neither will accept any accolades for their achievement. The women say the sport has given them so much that they welcome the opportunity to give something back. Both certainly have inspiring tales to share.
Bailey began exploring triathlon during a period of personal upheaval. "I was looking for a way to get back in focus, find a balance with working and being a single parent, and make new friends." She attended a "She Does Tri" camp in April of 2010, "just to see if this would be for me" and was immediately drawn to the "supportive nature of the triathlon community." She decided to give it a go, getting kitted out and signing up for her first two triathlons.
"Of course, I had to really learn how to swim first," she laughs, describing her "kiddie pool" lessons with her coach as something she will never forget.
But three months after making that decision, Bailey was diagnosed with a brain aneurysm that would require surgery. As she awaited the procedure, with her doctor's supervision (who by some kind twist of fate happened to also be a triathlete), Bailey cancelled her scheduled maiden races, but continued to "lightly" train, biking or running regularly, up until the day before the surgery.
Thankfully, Bailey's surgery was a success, but it took time to recover; a timeframe she feels was shortened and efforts that were eased by continuing to pursue her fitness goals. Both before and after her hospitalization, Bailey says that the training was "essential. It kept me balanced, focused, and strong. I really believe it helped save my life."
Twelve days after her surgery, Bailey went for her first run. Thirteen weeks after the aneurysm repair, Bailey ran a 10k, finishing in just under an hour.
Since then, Bailey has competed in dozens of events, and as a member of Team USA after qualifying in 2016 and competing in Canada in 2017. Bailey is pleased to report that she has already qualified for the 2019 ITU World Multisport Competition in Pontevedra, Spain.
Rachel McCarthy, the Vienna-based USA triathlon Ambassador, and mother of six, has had the running component of the sport down pat since she was a kid. From ages 9 – 20, McCarthy was a runner, rising to the Division I cross country and track teams while attending the College of William and Mary in the 90s, where she also discovered triathlon.
Like Bailey, she credits triathlon training for her fitness today, and much of her personal wellbeing, especially after a career-ending injury that precluded pursuing career aspirations as a pure runner.
"When I was running," says McCarthy, "the emphasis was not on overall health." She calls to mind the pictures of "almost emaciated-looking marathoners," and says that "in her day" there was little cross-training offered, or even considered important. Over the years, McCarthy suffered several bone breaks, which she attributes to "over training in one area" and now focuses on a "total healthy body."
"Triathlon is different," she explains. Between the three components of biking, swimming, and running, "you are getting a more complete exercise experience." She probably has more than a clue about which she speaks. McCarthy is now a Certified Triathlon Coach, bringing her expertise and personal experiences to clients from youth to elite with Machine M3, part of Machine Aquatics at the Machine Performance Center in Vienna.
McCarthy also believes that facilities like Machine M3 and the community that they build truly promote "a balanced approach to fitness and wellbeing" for everyone from the professional athlete to the beginner, and those who just want to have a little fun while enjoying some exercise or learning a new athletic activity.
ON SUNDAY, JUNE 3, the two triathlete Ambassadors are joining forces to present an "Introduction to Triathlon" session at the Machine Performance Center, located at 204-D Mill St. in Vienna. From 12 noon – 1:30 p.m., Bailey and McCarthy will be "taking away your fears of triathloning," discussing the ins-and-outs of the sport, from getting started to getting your best results.
"There really is something for almost everyone in triathlon," says Bailey, since there are sponsored events for age groups from youth through "advanced years," as she describes the category. No wonder that one of the other Ambassadors is still active in the sport at age 87.
If being the next iron man or woman isn't your thing, Bailey and McCarthy encourage interested persons to try "duathlons" that only require two of the components, or have some fun on a "no-drop" run.
"There are even relay-style events," explains Bailey. "If you are good at one component, but not so much at another, the relay way can still get you out there."
Whichever way you choose to participate in the sport – and the Ambassadors hope you do! – "you won't regret the feelings of wellbeing, accomplishment and camaraderie that you will gain," promises McCarthy.
For more information, or to let the Ambassadors know you might attend the Intro Event on June 3 (space is limited), contact either Bailey at USATAnnBailey@gmail.com, or McCarthy at RachelUSATriathlon@gmail.com. The triathletes also recommend checking out the USA Triathlon website at www.teamusa.org/USA-Triathlon.