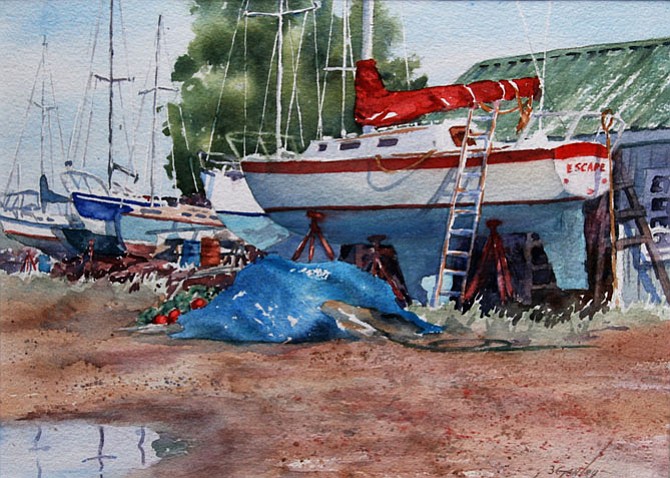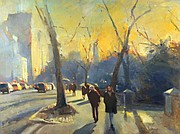 Look for the colorful flags strung throughout the Great Falls Village to wind your way through the booths and studios of more than 20 Great Falls Studios artists ready to greet guests in two main locations (the Grange/Schoolhouse at 9818 Georgetown Pike and the Studios in the Village Centre at 756, 766, and 776 Walker Road). The Spring ArtFest show and sale is on May 5 and 6 from 10 a.m. to 5 p.m. each day. That trip might take you by the outdoor easels of plein air painters capturing the scenes in and around the Village Centre and Grange/Schoolhouse properties. You can catch their recent paintings of the Great Falls area in the Village Centre's Fresh Paint Tent and cast your vote for the People's Choice award to be announced on Sunday at 4:30 p.m.
The main event is the art in multiple mediums presented by the participating artists in the Grange & Schoolhouse and in the three working studios in the Village Centre. Unlike the larger art festivals in the D.C. area, the Great Falls free Spring ArtFest is a more manageable size and intimate setting, allowing visitors to take a close look at the work and discover the inspiration behind each piece.
Plan your visit at www.GreatFallsStudios.com to take in multiple live demonstrations spread throughout the weekend including Lori Goll painting with pastels in plein air, Will Tuthill performing the ancient art of Hanga (Japanese woodblock printing) and John Francis McCabe capturing the alla prima portrait in oil of a Revolutionary War reenactor. Book readings by three Great Falls authors, Mary Jane Cogan, Penny Ross Burk and Lesley Hackman, are scheduled for the Grange stage.
If picking out that perfect original treasure created by hand by your artistic neighbors requires extra fuel, treats are available from the popular Great Falls Creamery all day both days in the Grange and the World Eats food truck there on Saturday afternoon.