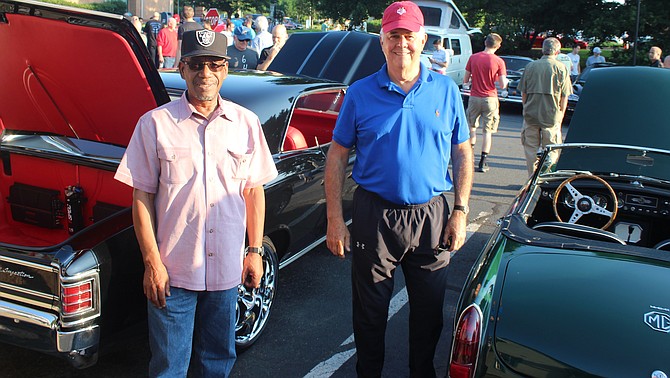 If you're serious about cars, six to nine a.m. on a Saturday is sacred time. While Great Falls sleeps, the parking lot of Katie's Coffee House comes alive as car lovers unite in automotive paradise.
By 8:30 a.m. this Saturday, July 28, six or seven hundred visitors and 325 show cars had driven to Katie's, Coffee House owner Mike Kearney said. His shop had already sold 110 gallons of coffee. That's 1,760 eight-ounce cups.
"There's a lot of energy going on here," Kearney said. "It's like a street carnival, every week."
This Saturday was a slow day, Kearney said. On a fast day, the street will be packed all the way around the block.
Kimverly Bustillo, a Katie's barista from Sterling said, "It gets busier. There are so many lines."
THE KEY to showcasing your car is arriving early. Kearney said his staff gathers at 4:45 a.m. every Saturday morning. By then, 15 show cars will have already appeared in his parking lot.
"Many millions of dollars of cars show up, and some are real collectors. To get a prime spot, you have to show up by 5:15 A.M," said car owner Joe Dowley, a retired lawyer from McLean.
Katie's Cars and Coffee attracts car enthusiasts across state lines. Lance Randall, an engineer, is a second-time Cars and Coffee visitor who drove down from Baltimore. He also goes to another car show in his hometown.
"This one here has more interesting cars, though," Randall said.
Zach Tempone collects even more mileage than Randall, hailing all the way from Philadelphia. His girlfriend, Margaret Amos, is a nursing student in D.C., and the two are regulars here.
"I come every time I'm in D.C.," Tempone said. "I've been coming every other weekend for two years."
One reason enthusiasts are willing to wake up before the sun and battle geography to get to Katie's Coffee House is the variety they find.
"You never know what's going to show up," said Jordan Feltcorn, an entrepreneur from Fairfax. "This week we've got the Brabus G Wagon, we've got all these Porsches, three Deloreans, which you don't see often. It's always a nice surprise."
VARIETY is present in both the cars and the visitors at Katie's.
John Herriges, an entrepreneur from Great Falls, said he comes to Cars and Coffee "to meet people."
"I'm a businessman and a car lover and I end up doing business here," Herriges said. "I love the cars and coffee."
"You get all kinds here," said Alan Hansen, an architect from Potomac Falls said. "You get kids, 20-somethings, 80-somethings, heads of development companies. You just get everybody here. Also, from around the world."
Hansen has heard conversations in German and French at Katie's. People ship cars in from overseas to present at the show, Hansen said.
Hansen said Katie's Cars and Coffee is not a reckless event. "It gets overblown, with McLarens and people taking their Ferraris out, getting in accidents. That's rare."
To Hansen, cars are an important creative outlet for owners who choose to add their own personal touch. Hansen said a driver once told him to check out the snake ornaments on the driver's car, claiming they had teeth. Hansen leaned in close, and the snakes puffed out smoke.
"D.C. is not known for being creative like L.A., so this is special," Hansen said.
Viewpoints
What Brings You to Katie's Cars and Coffee?