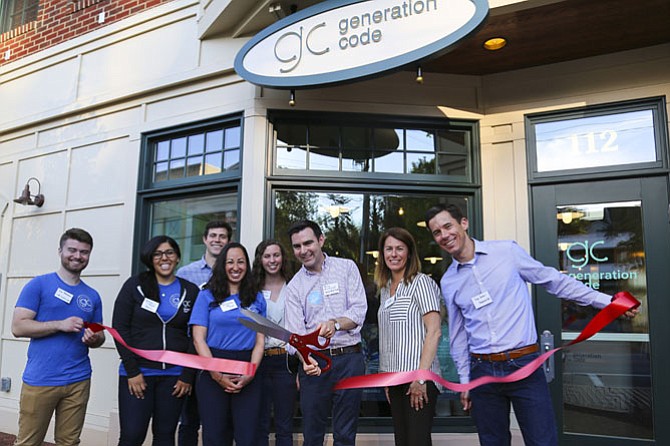 Vienna — Nearly a hundred people attended the grand opening of Generation Code on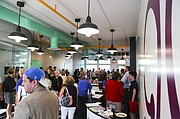 Tuesday, a new coding and robotics lab in Vienna.
Vienna families, town officials, and Generation Code staff were all present to tour the new lab and celebrate its opening with a ribbon cutting ceremony.
Mayor of Vienna, Laurie DiRocco, offered a warm welcome to this new business.
"We're very grateful that you decided to plan your first school here in the town of Vienna," she said. "We wish you all the best success."
Generation Code has previously operated in New York City, although within the schools themselves. CEO of Generation Code, Terry McDonough, said
they had great success and decided it was time to expand the business.
They looked around the New York area, suburban Maryland, and Northern Virginia for the perfect spot to open their first lab. McDonough said they kept coming back to Vienna because it had the right business support and interest in education and technology.
"Ever since we showed up to First Night Vienna way back in winter, to Viva! Vienna! just last weekend, where we had hundreds of people come by our booth and willingly give us their emails, which is really hard to do these days," he quipped, "we have been confirmed in that choice that Vienna was the right place for us to open this school."
The lab aims to educate children on a multitude of computer science skills, including app development, robotics, and animation. Families can sign their child up for different summer camps based on these topics.
"Generation Code is really focused on teaching kids the thinking concepts that go into coding," McDonough said. "We wanted to make it accessible to students who might not otherwise think of computer science or might be daunted by it."
The curriculum begins with teaching students different ways of thinking and builds from there. McDonough described it as being accessible, engaging, and project-based.
"It's really designed for people like me who are English majors but who really wanted to get into computers and make something for themselves with technology and not just consume the technology," he said.
McDonough also said he is eager to get the full schedule for camps out there, but that they have been pleased with the amount of interest Vienna has shown so far. Parents can visit www.generationcode.com for more information about the curriculum and the available camps.