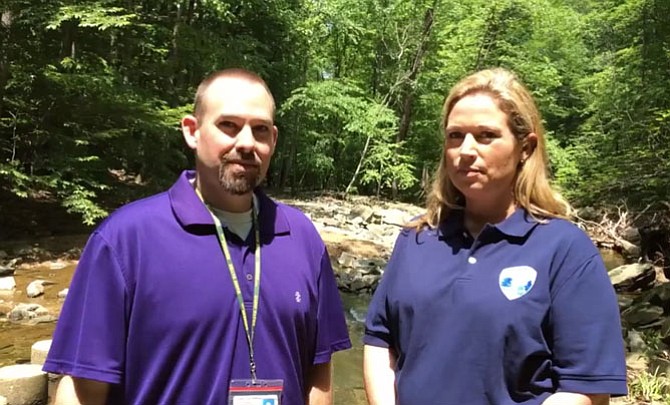 The Fairfax County Park Authority and Police Department hosted a briefing to announce stepped up enforcement and education efforts at Scott's Run Nature Preserve on Friday, May 19.
This site over the past several years has drawn large, unruly, often underage crowds that refuse to obey site rules, damage natural resources, refuse to follow staff direction, produce piles of trash and endanger themselves and others, Judy Pedersen, a spokesperson for the park authority, said in a media advisory.
During the briefing, officials outlined safety and enforcement issues happening at the preserve:
Prevalent underage drinking

Large piles of trash, including glass and coolers

Swimming at the waterfall, which is against the law and extremely dangerous

Swimming in the creek, which is a health hazard. Storm runoff from the Tysons area washes human and animal waste into the creek. Because of the sources of pollution, waters have the potential of being hazardous to human health.

Park and animal control staff work to enforce the countywide leash laws.

Digging up of wildflowers

Rowdy park visitors who intimidate hikers, families and threaten staff.
"In the last couple of seasons, we've seen an escalation of some inappropriate behaviors here at the park," Sara Baldwin, deputy director of the Park Authority, said in a video posted to the Fairfax County Government Facebook page. It has received more than 3,000 views.
"We wanted to educate the public here today on the rules and regulations and situation that we're having here at Scott's Run and hoping for their support," she said. "We want people to enjoy their parks, but we want people to enjoy our parks appropriately."
There is no Fairfax County Park Authority staff based at the preserve, which sits along the Potomac River, just upstream from the American Legion Memorial Bridge, according to Pedersen.
However, in the video, Baldwin warned that police will start patrolling the preserve to enforce rules.
In conjunction with the briefing, volunteers from the community cleaned the park from 9 a.m. until 1 p.m.
"They picked up probably close to 50 bags of trash here at the park," Baldwin said.