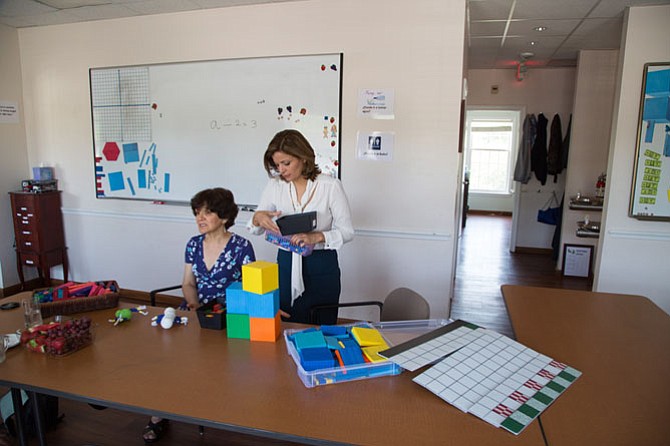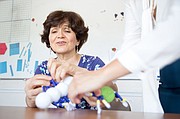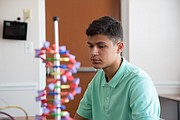 Mina Azari Kondner, teacher, director and founder of Mina's School of Great Falls believes that any student can succeed in school. Her program teaches intensive math, reading, and tutoring for students to organize their thoughts when they have struggled in other schools.
The school reaches students in grades 1 through 8. Right now the school only has six students in total, and a handful of teachers. Mina's School has been in existence for two years.
"We are new," said Kondner. "I loved teaching from childhood, when I came to America from Iran, I didn't have the English confidence. I felt that I could teach in English too."
The school prides itself in its unique method of teaching math with diagrams and sets of blocks. Students at Mina's school go from having trouble in public school to participating in math competitions at the local and state level.
"We really keep their eye contact here," she said. "And that's where some of their problems in the public school come from."
Take Armin Momenian, 13, a student at Mina's School for the past two years. He credits his success in school to Mina's unique approach to teaching math. "I think it's great because teachers give you more time to explain and relate it to real life," said Momenian. "I've started to love math!"
His mother, Nahid Momenian, a teacher at Mina's School of Great Falls, credits his success to the school as well. "They told me when Armin was in Kindergarten that he struggled with rhyming. I called Mina after they diagnosed him with ADD and told me to put him on medication. Then we tutored him in math and now it's his favorite," she said.
Her other son, Sherwin Momenian, 15, also studied at Mina's School and is taking half of his classes at Northern Virginia Community College. His other half is spent in math tutoring. "I can teach math really well now too, there's a huge difference here."
"Doctors are not teachers. We should change ourselves because we can't change the child," said Kondner. "We need to adjust ourselves to the children's needs."
Watch a video of math tutoring in action at Mina's School of Great Falls here: https://www.youtube.com/watch?v=tMMYASyCZ-c&t=2260s.